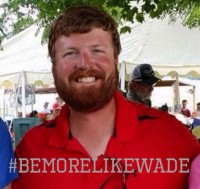 Cunningham, TN – Last Saturday, July 30th, 2016 the 2nd annual "Be More Like Wade Scholarship 5K Run/Walk/Crawl" was held at the Montgomery Central Schools in honor of Wade Morgan. The race began at 8:30am.
All proceeds go into a scholarship fund which will be given to a Montgomery Central Senior who demonstrates similar characteristics of #bemorelikewade. He exemplified the true meaning of a genuine person by being a selfless individual and always having an optimistic outlook on life.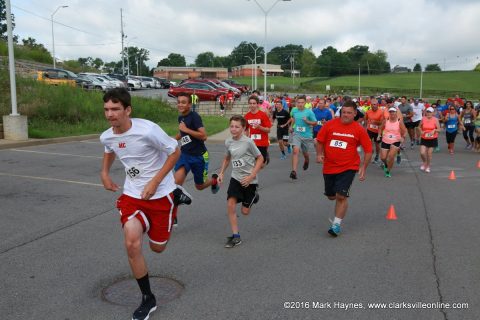 Donations can still be made in person at Cumberland Bank and Trust where checks need to be made out to "Be More Like Wade." Logo for the charity is #BEMORELIKEWADE.
Wade Morgan died on March 3rd, 2015. He was a Montgomery Central High School graduate from the class of 2002. Wade was Mr. Central in 2002 and also the president of Central Civitan at the time of his death.
By creating this event the organizers hope Wade's memory will live on and more people will #bemorelikewade. As a result of this run, we will be awarding multiple $1000.00 scholarships to graduating seniors at Montgomery Central High School who portray characteristics of Wade Morgan.
Last year eight $1000.00 scholarships were awarded. Recipients were Janelle Smith, Karoline Peters, Kirsten Meaker, Madison McMahan, Peyton Bone, Stephanie Carson, Leslie Bradley and Kayla Coleman.
The race began in the front of the high school and continued for three laps for a total of 5k. Multiple water stations were along the route.
225 people registered for the Be More Like Wade Scholarship 5K Run/Walk/Crawl,which doesn't include the children and four-legged friends. With donations still coming in, close to $15,000.00 was raised for the scholarship fund.
"Thank you from the bottom of my heart. It's not just me that's thankful, but it's also going to the graduating Montgomery Central seniors that we give scholarships to. We are on track to give eight $1000 scholarships again. Those applications we go out at the beginning of the year to those that are eligible," stated Jessica Morgan, sister-in-law of Wade Morgan.
Everyone who registered before July Fourth was guaranteed a tee shirt. But Morgan ordered extras so everyone that registered for the run also got a shirt. All the participates received a coupon for a free drink at the Lone Oak Picnic.
This year's winners received a camel back water bottle with the #BeMoreLikeWade logo on it, a free ticket to next year's race, and a free complete meal ticket to the Lone Oak Picnic.
Some sponsors contributed heavily. Hilltop Super Market donated the water. Cunningham Volunteer Fire Department volunteer their time as medics and helped out all around. Boy Scout Pack 502 manned the water stations. Montgomery Central High School football team and ladies' soccer team assisted with parking and also participated in the race.
"Some family members helped as volunteers and then some of my friends and Wade's friends helped put this together,"  Morgan continued.
"The event went as well as I expected if not better. I had hoped for at least 200 people and we had more than that. Everything seemed to run smoothly. This was a new route for us this year. It was flat and more accommodating for everyone regardless if they trained for a 5k or if they're just coming out for the cause," said Morgan. "We hope that everyone enjoyed the event."
We are thankful for all our sponsors this year which include:
Central Civitan, Cumberland Bank & Trust, David and Barbara Morgan, Margaret West, Twin Rivers Turf LLC, J & J Remodeling and Repair, Suncrest Home Health, Areawide Construction, Superior Trophies – Owner Dianne Stephens, Morgan Inc., Hampton/Davis, Montgomery County Coon Hunters Association, Hilltop Super Market,Ledbetter Signs,Clarksville Athletic Club, Baggett Carpet Service, Wyatt's Body Shop Inc, Lyle Family Reunion, Gateway Tire, Midsouth Internet, Tommy McIntosh Family, CEMC, Reynolds Plumbing, Cunningham Volunteer Fire Department, Shelter Insurance—Freddie Hoard, Krueckeberg Construction, Royal Cleaners, Baggett Heating and Cooling, B.R. Miller & Co. Inc, Tipton Construction, Anonymous—in honor of Briley and Colten Morgan, and Back 2Basics Dentistry.
Photo Gallery