Clarksville, TN – Local residents, especially those interested in a system of greenways that link North Clarksville to downtown, are invited to a public workshop to discuss the ongoing project.
The workshop is a come-and-go event from 6:00pm-7:00pm, September 22nd at the McGregor Park Museum, 640 North Riverside Drive.
Come to view maps, provide verbal or written comments and talk with city officials to learn more about the next phase of the Red River Greenway.
Ultimately, the greenways plan — designed to enhance the city's transportation network and provide healthy recreational opportunities – will complete a network of trails to provide an uninterrupted 10-mile pedestrian/bike route that connects Tiny Town Road and Heritage Park in North Clarksville to McGregor Park and the RiverWalk downtown.
As part of the recently completed 2015 Greenway Master Plan, the city is applying for a 2016 Transportation Alternatives Program grant through the Tennessee Department of Transportation.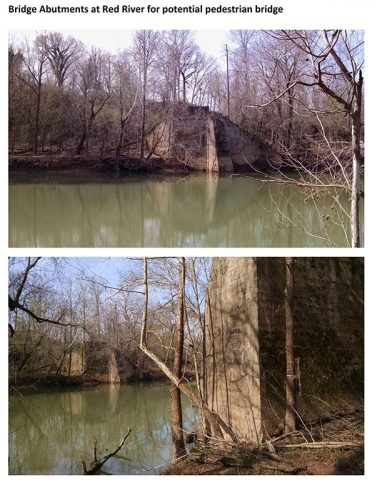 The city has received two prior grants for the Red River Greenway which will connect Downtown Clarksville to the Clarksville Greenway via McGregor Park.  This grant request seeks money for the final piece, the pedestrian bridge spanning the Red River near the City Water Treatment Plant.
This 290-foot-long by 10-foot-wide bridge will cross the Red River at the site of a former railroad bridge. The project includes a 500-foot ADA compliant overhead boardwalk that descends from the elevation of the north bank railway bridge pier to the trail.
The 1,520 feet of trail needed to connect the bridge/ramp with the current, temporary terminus of the Greenways Overlook Trail to the north is under construction.  Previous related projects include construction of a 1,500 foot trail north from the RiverWalk up the Red River to an existing pedestrian crossing the Red River Bridge on US Route 41A.
Under the program now known as the federal Transportation Alternatives Program, more than $317 million in grants have been distributed by TDOT statewide since 1991. The money has been awarded to Clarksville and 266 other communities across the Volunteer State to build greenways, sidewalks, bike and pedestrian trails; and other transportation related structures.
Whether large or small, these projects align with Clarksville Mayor Kim McMillan's goals to improve transportation options and provide a better quality of life for people in Clarksville.
One of the key components of the grant process is gaining input from those who live and work in Clarksville, and especially to hear the views of those who use and enjoy the existing greenway corridor infrastructure.