APSU Sports Information
Clarksville, TN – Outside hitter Christina White posted a 14-kill, 10-dig double-double performance to lead Austin Peay State University's volleyball team to a three-set (25-16, 25-16, 25-15) Ohio Valley Conference victory against Eastern Illinois, Saturday afternoon at the Dunn Center.
Austin Peay (23-10, 12-4 OVC) got out to a slow start and battled Eastern Illinois through five ties and three lead changes in the match's opening 16 points.
But sophomore Logan Carger's kill tied the first set, 8-8, and White's kill on the ensuing rally broke that tie.
Those two points not only started a 17-8 run to end the first set, but also provided a lead the Govs would not relinquish the rest of the match.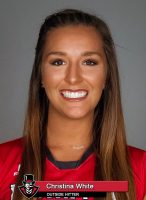 The Governors rolled to an 18-kill effort in the opening set, posting a .179 attack percentage.
Austin Peay improved on that mark in the second set, winning wire-to-wire thanks to a 16-kill effort that saw them post a .302 attack percentage.
The third set's 16 kills and .419 attack percentage were the coup de grâce in another wire-to-wire victory.
Eastern Illinois (5-26, 2-14 OVC) could not solve a Governors defense that had one of its best outings of the season.
APSU libero Ginny Gerig had an impressive 27-dig performance that was the second best three-set effort in program history.
It paced a defensive effort that finished with 78 digs (26 per set) and held the Panthers to just 23 kills and a.099 attack percentage.
White's 14 kills led Austin Peay's 52-kill outing. Middle Blocker Logan Carger added 11 kills at a .333 attack percentage.
Setter Kristen Stucker had a 35-assist, 10-dig outing that included five kills.
Inside The Box Score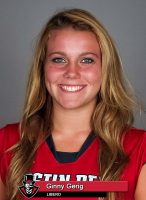 Digging Gerig
Libero Ginny Gerig nearly single-handedly stymied Eastern Illinois' offense, posting a 27-dig (9 per set) outing. It was the Govs second-most digs in a three-set match, falling two shy of the record set by Kristen Kirch in 2007. It also was Gerig's fourth 20-dig outing in the Govs last five matches.
200 For Slay
Middle blocker Ashley Slay's nine-kill outing pushed her over 200 kills in OVC play this season. She became just the 23rd hitter to reach that milestone in league action, finishing the 16-match schedule with 208 kills.
Ebright Plays No. 131

Senior Sammie Ebright played in her 131st career match, which also was her final home match as a Governor. Her next match played will tie her for the program record (132) which was set by Stephanie Garrard in 1993 and matched by Cori Brown in 1996. Ebright has played in all but two matches during her career and seen action in 470 of 493 possible sets.
More Ebright
Ebright's eight digs pushed her past the 900-career dig mark, ending the day with 906 digs. She enters the postseason with 766 kills (23rd most in program history) and 148 blocks.
Austin Peay now prepares for the OVC Volleyball Championship which will be held next weekend at the regular-season champion – either Murray State or SIU Edwardsville. The Governors will enter the tournament as the No. 3 seed, but will not know their opponent until the conclusion of Saturday's action.