Tennessee Lady Vols (10-5/2-1 SEC) at Ole Miss Rebels (12-4/1-2 SEC)
Thursday, January 12th, 2017 | 6:02pm CT (7:02pm ET)
Oxford, OX | The Pavilion at Ole Miss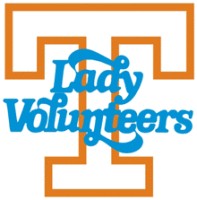 Oxford, MS – Tennessee is back on the road Thursday, as the Lady Vols prepare to face Ole Miss at 6:00pm CT (7:00pm ET) at The Pavilion at Ole Miss.
The game will be carried on SECN+ and will be available online through WatchESPN. Visit WatchESPN.com or download the WatchESPN app to view the game on a computer or mobile device. Richard Cross (PxP) and Lindsay Roy (Analyst) will describe the action between the Lady Vols and the Rebels.
Fans can also tune into their local Lady Vol Network station to catch Mickey Dearstone describing the action.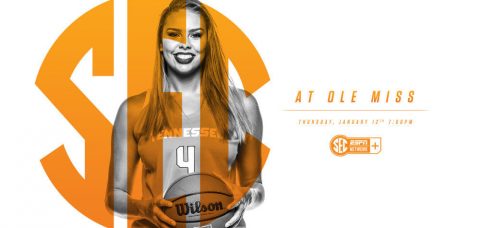 Tennessee vs. Ole Miss
RV/RV Tennessee (10-5, 2-1 SEC) hits the road to Oxford, MS, where it will face Ole Miss (12-4, 1-2 SEC) on Thursday in the 52nd meeting between these programs.
The Lady Vols and Rebels are slated to tip off at 6:02pm CT (7:02pm ET) in The Pavilion at Ole Miss. This will mark UT's first visit to the venue, which opened last season.
Tennessee has been playing very well since an embarrassing home loss to #4/4 Baylor on December 4th, winning six of its last seven games.
UT was within shouting distance of extending the streak to seven (leading with 2:40 to go on Sunday) before #4/4 Mississippi State finished the game on a 13-2 run and took a 74-64 victory in Knoxville.
During the six-game streak, UT defeated #10/10 Stanford (59-51) and #17/23 Kentucky (72-65) and won at (then) 10-4 Vanderbilt (70-57).
Ole Miss comes into the match-up on a two-game skid, dropping back-to-back games vs. Alabama (90-80) and Auburn (83-60) after opening league play with a home win over Arkansas (73-64).
That 1-2 league start came on the heels of six straight non-conference wins and an 11-2 record during the pre-conference slate.
Broadcast Information
Richard Cross (PxP) and Lindsay Roy (Analyst) will describe the action for the Tennessee-Ole Miss online broadcast on SECN+.
All of the games included in the SEC Network (SEC Network, SECN+) package and the ESPN package (ESPN, ESPN2, ESPNU) will be available through WatchESPN, accessible online at WatchESPN.com, on smartphones and tablets via the WatchESPN app, and streamed on televisions through Amazon Fire TV, Apple TV, Chromecast, Roku, Xbox 360 or Xbox One to fans who receive their video subscriptions from affiliated providers.
Mickey Dearstone will handle the call for the IMG College/Lady Vol Network radio/online broadcast. Airtime is 30 minutes prior to tip-off on network stations.
Tennessee in SEC Play
UT is 369-59 in SEC regular-season games, winning 18 championships through the years and capturing SEC tourney titles on 17 occasions.
During the Holly Warlick era, Tennessee is 52-15 in league games, making Warlick the top-ranked active SEC coach in terms of winning percentage in league play at .776.
South Carolina's Dawn Staley is the next coach behind Warlick at .667, followed by UK's Matthew Mitchell at .643.
In only her fifth season as a head coach, Warlick already ranks fifth in total league wins among active SEC coaches.
Warlick vs. The Lady Vol Family
UT faces an Ole Miss team with former Lady Vol standout Alex Fuller Simmons serving as a fourth-year assistant coach.
Against teams with former Lady Vol players and/or staffers, Holly Warlick is 25-8, including 1-0 vs. Alcorn State (Tonya Edwards), 1-0 vs. Appalachian State (Angel Elderkin), 5-3 vs. Kentucky (Matthew Mitchell, Shalon Pillow, Kyra Elzy, Niya Butts, Amber Smith), 2-0 vs. Lipscomb (Greg Brown), 4-2 vs. LSU (Nikki [Caldwell] Fargas, Tasha Butts), 1-0 vs. Middle Tennessee (Alex Fuller), 2-0 vs. North Carolina (Sylvia Hatchell), 4-0 vs. Ole Miss (Alex Fuller Simmons), 2-3 vs. South Carolina (Nikki McCray-Pinson), 1-0 vs. Vanderbilt (Carolyn Peck) and 2-0 vs. Wichita State (Jody Adams, Bridgette Gordon).
Against teams with former Lady Vols on staff, Warlick is 16-7, including 4-2 vs. LSU (Nikki [Caldwell] Fargas,
Tasha Butts
), 2-3 vs. South Carolina (Nikki McCray-Pinson), 1-0 vs. Middle Tennessee (
Dustin Edwards
,
Alex Fuller
), 4-0 vs. Ole Miss (
Alex Fuller
Simmons), 1-0 vs. Alcorn State (Tonya Edwards), 2-0 vs. Wichita State (Jody Adams, Bridgette Gordon) and 2-2 vs. Kentucky (
Shalon Pillow
,
Kyra Elzy
, Niya Butts).
Against teams with former Tennessee staff members coaching, Warlick is 15-5, including 1-0 vs. Appalachian State (Angel Elderkin), 5-3 vs. Ky. (Matthew Mitchell, Kyra Elzy, Amber Smith), 2-0 vs. Lipscomb (Greg Brown), 4-2 vs. LSU (Nikki [Caldwell] Fargas, Tasha Butts), 2-0 vs. North Carolina (Sylvia Hatchell) and 1-0 Vanderbilt (Carolyn Peck).
Against former Lady Vols as head coaches, Warlick is 7-2, including 4-2 vs. Nikki [Caldwell] Fargas (LSU), 1-0 vs. Tonya Edwards (Alcorn State) and 2-0 vs. Jody Adams (Wichita State).
The Series vs. Ole Miss
UT enters the 52nd meeting in the series with a 44-7 edge, including a 19-3 mark in Oxford.
The Lady Vols won their 12th straight game at Tad Smith Coliseum on February 12th, 2015, securing a 69-49 triumph over the Rebels.
In 2016-17, UT will try to continue that streak in Oxford in a new venue, as the Rebels call The Pavilion at Ole Miss home for the second season.
Tennessee has claimed 28 games in a row in the series, with the last loss occurring on February 4th, 1996, as #20/25 Ole Miss upended #3/3 UT, 78-72, in Oxford.
The Lady Vols have won 17 straight over the Rebels in Knoxville, with the last Ole Miss victory (69-65) coming on January 31st, 1987, in Stokely Athletics Center. UT improved its record vs. the Rebels to 20-2 in Knoxville on February 18th, 2016, coming from behind and holding off Ole Miss, 57-51 at Thompson-Boling Arena.
Holly Warlick has had to face both Matt Insell (Ole Miss) and his father, Rick (Middle Tennessee), as Tennessee's head coach, and she has a 6-0 mark vs. the family, including 4-0 vs. Matt Insell.
The Lady Vols are 5-2 vs. the Rebels at neutral sites, and the teams are 1-1 in overtime games.
UT played its longest game in program history versus Ole Miss in 1983, as the two teams battled to triple overtime in the NCAA Mideast Regional semifinal with the Lady Vols winning, 90-83, on March 25.
This is the first time these teams have met with neither program ranked.
The last time these programs met with both teams ranked was on March 2nd, 1996, when #5 UT defeated #23/22 Ole Miss at the SEC Tournament in Chattanooga, 73-51.
In one of the more unique games in the series, a February 24th, 2011, contest in Oxford was shortened due to torrential rains leaking through the roof onto the playing floor. Tennessee was a 66-39 victor in that game, which was halted with 5:24 remaining.
Former Ole Miss All-American Peggy Gillom still holds a share of the UT school record for most points in a single game by an opponent. Gillom rang up 45 points (on a record 21 field goals) against the Lady Vols on February 4th, 1978 in Stokely Athletics Center.
Last Meeting Between These Teams
Bashaara Graves posted a double-double with 15 points and 12 rebounds, and No. 24/RV Tennessee enjoyed timely contributions off the bench from Meme Jackson and Kortney Dunbar to take a 57-51 win over Ole Miss on February 18th, 2016, at Thompson-Boling Arena the last time these teams played.
Tennessee (16-10, 7-6 SEC) surged in the second half to post its 28th-straight win over Ole Miss (10-16, 2-11 SEC). UT came back from a 33-30 halftime deficit, marking the Lady Vols' first win of the season after trailing at the half. Tennessee entered the night 0-5 when behind at halftime.
Graves scored 11 of her 15 points in the first half and her 12 boards were her most since collecting 12 against Kentucky on January 25th.
Te'a Cooper
and
Jaime Nared
scored 10 points each.
Shandricka Sessom led Ole Miss with 21 points on 8-of-17 shooting. A'Queen Hayes added 12 points and eight boards for the Rebels.
The Rebels went on a 10-0 run in the middle of the fourth quarter and briefly led 51-50 with 2:30 remaining. Dunbar answered with a fast-break layup and hit a 3-pointer from the left wing in UT's next possession to spark Tennessee's game-ending 7-0 run.
About the Ole Miss Rebels
Ole Miss returned four starters and eight letterwinners from last season's 10-20 squad.
That unit finished 14th in the SEC with a 2-14 record.
This season, however, Ole Miss got off to a 12-2 start and won its SEC opener at home over Arkansas.
The Rebels, however, have dropped a pair of road games to Alabama and Auburn and stand 12-4 (1-2 SEC) at this point.
Matt Insell is in his fourth season as head coach at Ole Miss, forging a 53-58 record during that span.
Shandricka Sessom, a 5-10 junior guard, is the Rebels' top returnee, averaging 15.6 points and 5.1 rebounds a year ago.
She stands second on the scoring list this season at 12.4 per contest behind Madinah Muhammad (13.2).
Ole Miss allows only 54.8 points per game for the season but has given up 79.0 per contest in league play.
The Rebels score 73.6 ppg. for the season and are averaging 71.0 in SEC action.
Ole Miss added a couple of key transfers in the offseason in Taylor Manuel (Loyola Chicago) and Chrishae Rowe (Oregon/Kentucky). Manuel has started 15 games, while Rowe has played in six since becoming eligible in December.
Ole Miss Falls at Auburn, 83-60
The Ole Miss women's basketball team (12-4, 1-2 SEC) couldn't keep up with Auburn on Sunday, dropping an 83-60 road contest to the Tigers.
Shequila Joseph (London, England) led the offense with 16 points — a new season high — and team-best six rebounds. Joseph was joined in double figures by sophomore Alissa Alston (New Haven, CT) who added 12 points for her second game in double figures this season.
Joseph was in double figures for the third time this season.
Alston posted 10 points for her second game in double figures and first since scoring 14 points vs. Jackson State on December 1st.
The Rebels struggled from the floor throughout the night and couldn't get anything going against the Auburn pressure, which forced Ole Miss into a season-high 24 turnovers while scoring 30 points off the Rebel miscues. Twenty came on fast break opportunities.
Ole Miss dropped its 10th consecutive SEC road game, with its last road win coming on February 19th, 2015, at Auburn.
#4/4 Mississippi State Holds Off Lady Vols With Late Run
Tennessee's valiant second-half comeback attempt fell just short in a 74-64 loss to No. 4 Mississippi State on Sunday afternoon at Thompson-Boling Arena.
The Bulldogs (17-0, 3-0 SEC) ended the Lady Vols' six-game winning streak while getting their first-ever victory over UT in Knoxville (1-16). MSU now has won three straight games in the series dating back to last season.
Diamond DeShields led all scorers with 25 points and was one of three Lady Vols in double figures. It was the third 20-plus point game this season for DeShields and the 27th of her career. The Georgia native also finished the game one rebound shy of her sixth career double-double, finishing with nine boards.
Mercedes Russell
also had another strong performance for Tennessee (10-5, 2-1 SEC), recording her 10th double-double of the season with 17 points and 14 rebounds. The Big Orange were just the second team this season to out-rebound the undefeated Bulldogs, finishing with a 48-39 advantage on the boards.
The Lady Vols were aggressive on both ends of the floor and did the majority of their offensive damage from the charity stripe, going 30-for-35 from the free-throw line on the afternoon. UT also held MSU to just 37 percent shooting from the floor, well below their season average of 48 percent.
The Bulldogs also had three players score in double figures, led by Morgan William who finished with 21 points and four assists. Victoria Vivians finished with 20 points while Teaira McCowan added 14 points and nine boards.
Tennessee battled back throughout the second half and cut the deficit to one after DeShields made an incredible block that led to a layup by Jordan Reynolds on the other end with 6:42 to play.
UT took its first lead of the second half on a DeShields layup with 3:04 left to play, but MSU outscored the Lady Vols 13-2 the rest of the way to seal the victory.
Coming Up on the Schedule
After the inaugural visit to The Pavilion at Ole Miss, the Lady Vols return home and step outside conference play to welcome #6/6 Notre Dame to town for an ESPN2 Big Monday tilt on January 16th.
That contest is Tennessee's We Back Pat game, bringing attention to the Pat Summitt Foundation and that organization's fight against Alzheimer's disease. Tip is slated for 6:02pm CT.
UT also will observe Martin Luther King Jr. Day on that day.
Ole Miss, meanwhile, returns to action on Sunday, facing in-state rival Mississippi State in Starkville at 6:00pm CT.
The Live Pink, Bleed Orange game, which brings awareness to the fight against breast cancer, will be held on February 2nd, as UT plays host to LSU at 6:00pm CT.