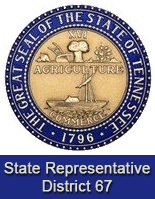 Nashville, TN – The first week of the 110th Tennessee Assembly's legislative session focused on electing the Speaker of the House of Representatives, organization of committees and preparing legislation. Most committees should start meeting when the Tennessee General Assembly reconvenes on January 30th, 2017.
"While necessary but certainly not exciting, the first few days of session are mostly organizational in nature," said Representative Joe Pitts (D-Clarksville). "Our committees are meeting to review rules and preview issues that may come before us in the coming weeks."
Representative Pitts, who is beginning his 6th term serving House District 67 in the Tennessee House of Representatives, was appointed to serve on the Education Instruction and Programs Committee and the companion subcommittee, the Insurance and Banking Committee and the Ethics Committee for the 2017-18 legislative session.
"I will continue to be diligent in supporting ideas that enhance the quality of public education for students and educators, and contribute to the positive business environment of our state," said Pitts. "Public educators need the space and time to teach, and the needless distractions and meddling in our local schools are not helpful."
The Speaker of the House, through the rules of the legislative body, also created the Workplace Discrimination and Harassment Subcommittee of the Ethics Committee and appointed Rep. Pitts to that subcommittee.
"I am honored that Speaker of the House Beth Harwell (R-Nashville) chose me to be one of the four House members placed on the new Ethics Subcommittee," Pitts said. "In light of the misdeeds of the expelled legislator last year, this subcommittee will complement an improved sexual harassment policy rolled out by the Speaker last year. I am hopeful, however, that this subcommittee will never have to meet but am committed to ensuring members are held to a high standard of conduct."
In the next legislative update, we will share some of the legislation sponsored by Representative Pitts and other members of the Tennessee General Assembly, and provide weekly updates about the progress of these issues.
If you have questions about the above or other issues of concern, please call me at 615.741.2043, or email me at