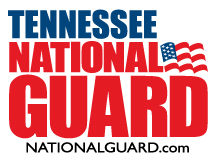 Nashville, TN – More than three hundred and thirty Soldiers and Airmen from the Tennessee Army and Air National Guard will support the 58th Presidential Inauguration this week in Washington, D.C.

The 194th Engineer Brigade (Army), headquartered in Jackson, has 304 Soldiers providing command and control for Military Police Soldiers performing stationary security at different locations. A logistics team of supply and maintenance personnel are providing support for the MPs and a Religious Support Team.
The 134th Air Refueling Wing from Knoxville (Air) has twelve personnel working as a food services team, two Public Affairs representatives to ensure the timely and accurate release of information and response to media inquiries regarding the National Guard's mission and one Airmen serving as technical support for a Mobile Emergency Operations Center.
Tennessee Joint Force Headquarters Medical Command from Smyrna is providing five personnel to provide care for our Soldiers/Airmen during the week. They will establish medical sites during the inauguration as treatment centers for those supporting events on the 20th.
More than 29,000 Tennessee Army and Air National Guardsmen have deployed since September 11th, 2001, supporting Operations Noble Eagle, Enduring Freedom, Iraqi Freedom, New Dawn and Guantanamo Bay, Cuba. During the past year Soldiers and Airmen from Tennessee have been instrumental in European Operations Atlantic Resolve, Resolute Castle and Operation Anakonda in Bulgaria, Poland and Estonia.
In total, more than 7,500 National Guard Soldiers and Airmen, from 44 states, three territories and the District of Columbia, will serve with the specially created Joint Task Force – District of Columbia. The District of Columbia National Guard created JTF – DC in response to requests for assistance from local and federal agencies in the National Capital Region.
As a whole, National Guard Soldiers and Airmen will augment the U.S. Secret Service, U.S. Capitol Police and D.C. Metropolitan Police forces on a range of support, including traffic control, crowd management, logistics and communication.
National Guard support to presidential inaugurations dates to April 30th, 1789, when local militia members (today's National Guard) joined the U.S. Army and revolutionary war veterans to form an honor detail and escort General George Washington to his inauguration ceremony in New York City from Mount Vernon, VA. Over the years, National Guard involvement has grown and is designated to honor the commander-in-chief, recognize civilian control of the military, and celebrate democracy.