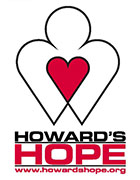 Clarksville, TN – Howard's Hope has partnered with Clarksville Parks and Recreation to offer free swim lessons to Montgomery county children between the ages of 3 – 12 years old.

The Howard's Hope "Flying Fish" program focuses on preventing juvenile drownings in Tennessee by funding swim lessons for children residing in economically disadvantaged households.

The funds for the Flying Fish program are provided by a grant from BlueCross BlueShield Tennessee Health Foundation and donations from private and corporate citizens throughout the United States.

Each child accepted into the program will receive eight swim lessons, a Flying Fish tote for storing swimsuit, towel, flip-flops, etc., plus a Howard's Hope t-shirt. Aquatic safety rules will also be taught during the swim lessons.

Parents can choose between two program dates. The first program begins February 6th and ends February 16th. The second program begins March 6th and ends March 16th. Swim lessons start at 5:30pm and run Monday through Thursday evenings for two consecutive weeks.

The Clarksville Parks and Recreation instructors will provide basic introductory swim lessons at the department's New Providence Pool.

For an application, email . Deadline for submitting applications is January 31st.

Howard's Hope is a Tennessee nonprofit founded in 2014 by a Murfreesboro Tennessee husband and wife after witnessing the near drowning of their 4-year old daughter in the family's swimming pool. The mission of the organization is to reduce juvenile drownings by providing economically disadvantaged youth access to organized programs which provide aquatic safety lessons and teach water survival skills.

According to the Centers for Disease Control and Prevention, drowning is the leading cause of accidental death for children younger than 5-years old; and it's the second leading cause of accidental death for children younger than 14-years old. Tennessee currently ranks 18th in the nation for drowning deaths.

The Flying Fish program is also available in Nashville, Murfreesboro, Chattanooga, Shelbyville, and Tullahoma, along with being offered at Middle Tennessee State University and Vanderbilt University.

For more information on Howard's Hope, visit www.howardshope.org
About Howard's Hope
Howard's Hope has been proclaimed an "Outstanding Tennessean" by the Tennessee state House of Representatives and is funded, in part, by a grant from BlueCross BlueShield Tennessee Health Foundation. Howard's Hope is also a Campaign Safe Leader for the Consumer Product Safety Commission's "Pool Safely" campaign.
The Howard's Hope Flying Fish program is also available in Clarksville, Nashville, Chattanooga, Murfreesboro, Tullahoma, and Shelbyville.
Howard's Hope is a Tennessee nonprofit corporation exempt from federal income tax under Section 501c3 of the Internal Revenue Code. Tax ID# 46-5429798. Mailing address: 2255 Memorial Blvd., Box #11191, Murfreesboro, TN 37129.
Website address: www.howardshope.org
Sections
Events
Topics
BlueCross BlueShield of Tennessee, BlueCross BlueShield Tennessee Health Foundation, Chattanooga TN, Child Drowning, Clarksville Parks & Recreation Department, Clarksville Parks and Recreation, Clarksville TN, Consumer Product Safety Commission, Drowning, Howard's Hope, Middle Tennessee State University, Montgomery County, Murfreesboro TN, Nashivlle TN, New Providence Pool, Shelbyville TN, Swim Lessions, Tullahoma TN, U.S. Centers for Disease Control and Prevention, Vanderbilt University