APSU Sports Information

Huntington, WV – Austin Peay State University track and field enjoyed an outstanding weekend behind huge outings from a host of field standouts at the Thundering Herd Invitational, hosted by Marshall.
It was a field event bonanza for the Govs, who got strong performances from multiple athletes.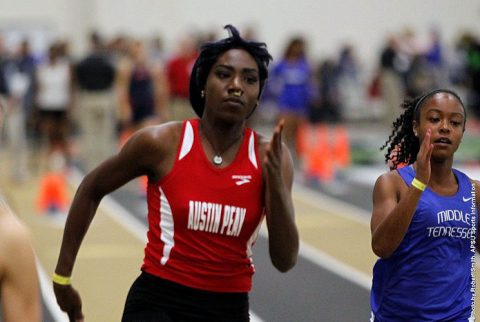 Sophomore
Savannah Amato
kicked the weekend off with a 3.80m (12-5.50) pole vault that gave her a share of runner-up, while fellow sophomore
Dascha Hix
also claimed a top-five with a fifth-place, 3.65m (11-11.75) earned via jumpoff.
Saturday belonged to senior Kaylnn Pitts. The Woonsocket, Rhode Island native crushed the competition with a 12.42m (40-9.0) triple jump, winning the event by nearly five inches and securing her second win in as many weeks in the triple jump after going nearly a calendar year between victories.
All-time, this is her 12th career triple jump victory (indoor and outdoor) and second in the Thundering Herd Invitational; she set the previous meet record in 2015, a mark she eclipsed Saturday, along with the Jeff Small Track facility record. In addition, she moved into second in the Ohio Valley Conference standings in the triple jump.
Pitts' teammate, Chancis Jones, pulled top-12 finishes in both the triple (11.39m; 12th) and long (5.49m; 12th) jumps, while sophomore Nia Gibbs-Francis rounded out an exemplary weekend in the field with a 10th-place, 1.60m (5-3.00) high jump mark.
"Pitts did a real nice job," said head coach Doug Molnar. "It's good to see her getting back to what she's capable of doing. Our jumps continue to be strong."
On the track, it was freshman Diamond Battle who turned in yet another solid outing in the 60m dash, finishing 11th overall—and third among freshmen—with a 7.76 mark. In the 60m hurdles, senior Myiah Johnson's 9.02 garnered her a 13th-place finish; she's averaging 8.90 through five attempts in the event this season.
"We've got to get our hurdle group going a little more," Molnar said. "That's an event we have a chance to be strong in but we've got to get more consistent from meet to meet."
Austin Peay returns to action next week at the Don Denoon Invitational, hosted by Southern Illinois and at Middle Tennessee's MTSU Invitational.
"This week we held a few people out to rest them up," Molnar said. "It's that time of year where people start to get a little beat up and we want to be sure we're ready for the conference meet. Right now, it's about getting healthy and keeping everybody ready to go."