APSU Athletics Department

Clarksville, TN – After rallying back from a 12-point first half deficit, Austin Peay State University men's basketball team was unable to put away a resilient Tennessee State squad, dropping a 70-66 decision to the Tigers in a Saturday night special at the Dunn Center.
Playing without leading scorer Tahjere McCall, the Tigers were the aggressor early on, leading for nearly the entire first half and stretching the lead to 12 with 5:54 to go. The Governors, led by Josh Robinson, finished the half on an 11-2 run to trail 34-31 at the break.
The Governors carried that momentum into the second half, overtaking Tennessee State and building an 11-point lead with 11:53 to go. But the Tigers followed Austin Peay's run with a furious rally of their own, tying it with 6:32 to go thanks to a 13-2 run.
John Murry did all he could to stymie the Tigers late run. The senior from Indianapolis—who was the only Governor to hit a shot from the floor over the final 11:50 of regulation—scored 10 points over the final 2:39, including a layup with five seconds left to get within a point. Unfortunately, Tennessee State hit all four free-throws late to seal the victory.
The Difference
From 11:53 to 2:39 in the second half, Tennessee State outscored Austin Peay 21-2 to go from 11 points behind to eight points ahead of the Governors.
Notably
Murry led all scorers with 20 points, his third consecutive game as the Governors leading scorer and eighth career 20-point night as a Governor—all coming since November 30th, 2016. He's averaging 19.2 ppg in Ohio Valley Conference play.
Tennessee State attempted just 49 shots, a season-low by an Austin Peay opponent.
Jones made it 16 times in 25 appearances he's hit at least 60 percent of his shots from the floor, going 7-for-11 for 17 points and adding nine rebounds—the fifth time this season he's finished one board away from a double-double.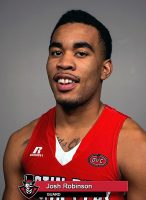 It also marked the 20th time Jones has scored in double figures this season.
Tennessee State's Wayne Martin committed six turnovers, equaling Murray State's Jonathan Stark for most by an Austin Peay opponent in 2016-17.
The Govs hit 71.4 percent (15-for-21) from the free-throw line, putting them at 73.0 percent (279-for-382) from the charity stripe in losses this season.
Junior Dre'Kalo Clayton picked up a career-high two steals in 18 minutes off the bench.
Coaching Quotables
Head Coach Dave Loos
On having the lead
"We had some defensive breakdowns, a couple of fouls, and they got some momentum going. When that team gets momentum, they're hard to stop. The period before that, we had probably played some of our best basketball of the year—we were moving the ball, sharing it, got good looks and were clicking pretty good. This game's funny, it can turn in a heartbeat and it did against us."
On adjusting to TSU's post play
"We were doubling Martin and then we decided to double both (he and Christian Mekowulu). We tried to mix a little zone in there, which was partially successful. TSU's a team that really works hard and grinds it out on you."
Up Next for the APSU Govs
Austin Peay begins the second half of its West Division slate with archrival Murray State, 7:00pm, Saturday, at the CFSB Center in Murray, Kentucky–a rematch of the January 21st Heritage Bank "Battle of the Border" contest.