APSU Sports Information

Murrfreesboro, TN – Austin Peay State University track and field picked up a pair of individual victories and a huge win in the relays to cap a successful appearance at Saturday's Middle Tennessee Invitational.
In a meet featuring Ohio Valley Conference foes Belmont, Tennessee State and Eastern Kentucky, the Governors more than held their own in what promises to be a preview of things to come at the end of the month at the OVC Indoor Championships in Charleston, IL.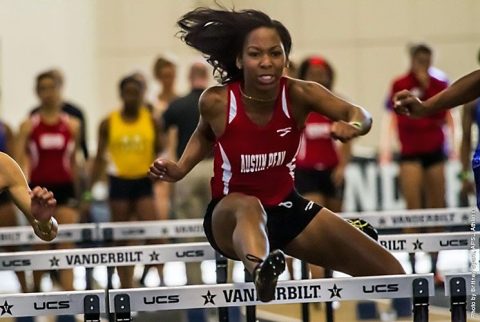 For the third week in a row, senior
Kaylnn Pitts
picked up a win, this time in the long jump. The Woonsocket, RI, native hit a season-best 5.69m (18-8.00) to move into fourth place in the OVC standings; it's her first victory in the long jump since the 2015 Governors Invitational.
Teammate Chancis Jones also moved into the league's top-eight with a 5.63m (18-5.75), finishing third overall.
Austin Peay's other victory came in the 55m hurdles, where senior Myiah Johnson found the proverbial top of the podium thanks to an 8.15 mark, moving into the league's top-eight in the 60m hurdles thanks to track size conversion (8.77). For Johnson, the win gives her back-to-back 55m hurdle titles at the Middle Tennessee Invitational. Christiana Harris finished third in the event with a personal-best 8.32.
With a runner-up in the 200m dash and a third-place finish in the 55m event, freshman Diamond Battle continues to establish herself as a star-in-waiting in the sprints. Her 25.27 in the 200m was six-hundredths of a second off her career-best, while her 7.14 was a personal-best which, converting to a 7.65 for track size, places her sixth in the OVC in the 60m dash. Fellow freshman Garielle Netter finished just behind Battle in both the 55m (7.24) and 200m (personal-best 25.71) events.
The Govs also got a win in the mile relay, with Jala Allen, Sonja White, Amelia Thiesing and Allysha Scott combining to post a 4:06.05 mark for the victory. Austin Peay also accounted for two of the top three finishers in the 3000m run with Emmaculate Kiplagat (11:04.96) and Sarah-Emily Woodward (11:14.62) finishing second and third, respectively.
"Our freshman are really starting to come on strong," said head coach Doug Molnar. "It's great to see how they're developing. Our hurdlers did a real nice job. While it wasn't a great time in the mile relay, we're always happy to close out the meet with a win."
Elsewhere on Saturday, Nia Gibbs-Francis' 1.58m (5-2.25) high jump earned her a third place finish while Friday night, sophomore Savannah Amato widened her lead in the OVC pole vault race with a season-best 3.88m (12-8.75) mark at Southern Illinois' Don DeNoon Invitational; she finished third overall.
"The vaulters got us going at Carbondale and really got the rest of the team fired up," Molnar said. "Overall, we did a pretty good job today. We'll take the next week off, work on some technical stuff and iron some things out before we head to Ohio State in two weeks."