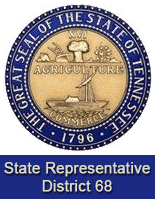 Nashville, TN – This week in Nashville, House Speaker Beth Harwell (R-Nashville) created a task force on opioid and prescription drug abuse and named Tennessee State Representative Curtis Johnson as Chair.
The task force's immediate goal will be to work on legislation, but its efforts will be ongoing to determine the best strategies for tackling the opioid epidemic. Tennessee is consistently ranked at the top of the charts nationally with regards to prescription drug abuse.

In 2015, 1,451 Tennesseans died from drug overdoses, the highest annual number in the state's history.
In addition, the number of babies born who have been chronically exposed to opioids is high, particularly in East Tennessee.
The Tennessee Department of Health reports that from 2000 to 2012, the rate of babies born with exposure increased 15 fold.
The Centers for Disease Control estimates that prescription opioid abuse has a total economic burden of $78.5 billion per year in the United States. There is an estimated $7.7 billion criminal justice cost across the country.

The first meeting of the Task Force is scheduled for Thursday, February 9th at 10:00am.
Contact Information
Rep. Curtis Johnson
15 Legislative Plaza
Nashville, TN 37243
615.741.4341
For more information about the Tennessee General Assembly, check our website at www.capitol.tn.gov