APSU Sports Information

Kennesaw, GA – Danielle Liermann's three-run homer in the bottom of the fifth inning rallied Austin Peay State University's softball team past Saint Louis, 5-4, Sunday morning in the final day of the Phyllis Rafter Memorial Tournament at Bailey Park, before the Billikens took Game 2, 14-5.
The Game 1 win was also the third recorded by Austin Peay to begin the season, tying the 1995 team's school record start.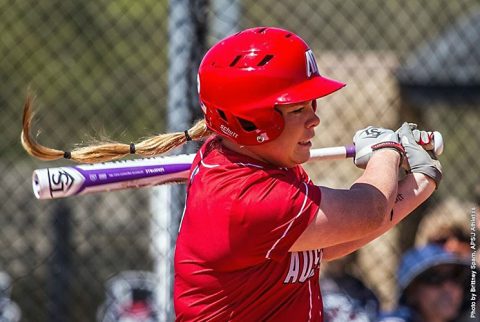 Austin Peay (3-1) led by one run, 2-1, heading into the top of the fourth inning in the opener, but saw the Billikens take their first lead of the day, 4-2, with three runs in the top of the fifth inning on three hits.
But Austin Peay would take advantage of a Saint Louis (3-2) mistake to start their rally, as the Govs Rikki Arkansas reaching base on a wild pitch on a missed third strike to start the inning.
Kacy Acree would follow with a walk, bring up Liermann as the protentional go-head run.
She didn't disappoint, blasting the first pitch she saw deep over the fence in left-center field to retake the lead for the Govs, 5-4.
Austin Peay starter Autumn Hanners (2-0) would take it from there, holding the Billikens scoreless over their final two at bats to seal away the victory – scattering eight hits overall, while strikeout six and walking two.
The Govs had taken their first lead, 2-0, in the bottom of the second inning, with Victoria Eccleston driving in Carly Mattson with a single and Arkansas forcing in Christiana Gable with a bases-loaded walk.
Saint Louis scored a single run in the third to cut the APSU lead to 2-1.
Unfortunately, the Govs weren't able to make it four wins in a row, with the Billikens exploding for 14 runs over the first three innings of Game 2 to take a commanding lead.
But the Govs didn't go quietly, scoring five runs in their final two at bats, with Mattson and Emily Moore recorded RBI doubles in the fourth inning, while in the fifth, Liermann picked up a RBI double and Mattson a two-run homer for the 14-5 final.
The Govs are off until February 21st, when they open the home part of their schedule by hosting Middle Tennessee State University at Cheryl Holt Field, with a scheduled 2:00pm first pitch.