APSU Sports Information

Clarksville, TN – The Austin Peay State University men's tennis team swept Southern Illinois, 4-0, Saturday afternoon avenging an earlier season loss to the Salukis.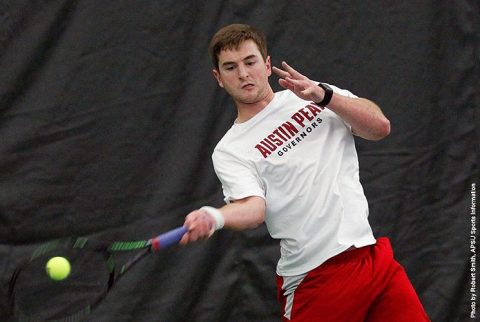 The Govs rolled through the doubles point to take an early 4-0 lead thanks to wins at No. 1 and No. 2.
Almantas Ozelis and Aleh Drobysh picked up a 6-1 win in the No. 1 match, while Aaron Jumonville and Manuel Montenegro earned a 6-4 decision in the No. 2 match.
Montenegro continued the momentum with a, 6-4, 6-3, win in his No. 1 singles match to give the Govs a 2-0 lead. Alex Kartsonis followed with a, 6-3, 6-4 win in his No. 4 singles match to pull the Govs within a point of the match win. Ozelis closed the door with a, 6-1, 6-4, win in his No. 2 singles match to give APSU the sweep.
The Govs will open Ohio Valley Conference action on the road with Tennessee State Friday, March 17th for their next match.
Box Score
Austin Peay 4, Southern Illinois 0
Singles
1. Manuel Montenegro (APSU) def. Piotr Baranski (SIU) 6-4, 6-3
2. Almantas Ozelis (APSU) def. Wilder Pimentel (SIU) 6-1, 6-4
3. Aaron Jumonville (APSU) vs. Michal Kianickia (SIU) 6-1, 3-6, unfinished
4. Alex Kartsonis (APSU) def. Alex Pozo (SIU) 6-3, 6-4
5. Aleh Drobysh (APSU) vs. Daniel Martinez (SIU) unfinished
6. James Mitchell (APSU) vs. Param Pun (SIU) unfinished
Doubles
1. Almantas Ozelis/Aleh Drobysh (APSU) def. Alex Pozo/Piotr Baranski (SIU) 6-1
2. Aaron Jumonville/Manuel Montenegro (APSU) def. Michal Kianickia/Daniel Martinez (SIU) 6-4
3. Chad Woodham/Alex Kartsonis (APSU) vs. Wilder Pimentel/Param Pun (SIU) 5-5, unfinished
Match Notes:
Southern Illinois 8-2
Austin Peay 3-7
Order of finish: Doubles (1,2); Singles (1,4,2) A-23