Clarksville, TN – Austin Peay State University associate professor of theatre and dance Christopher Bailey had the opportunity to tour North America as a member of the award-winning vocal group Tenore, this past January.
Bailey joined as a reserve member of the four-man group for the January leg of its "The Impossible Dream" tour, performing in seven western states, as well as Canada. Bailey was featured on dates at, among others, venues in Los Angeles, New Orleans and Edmonton, Alberta.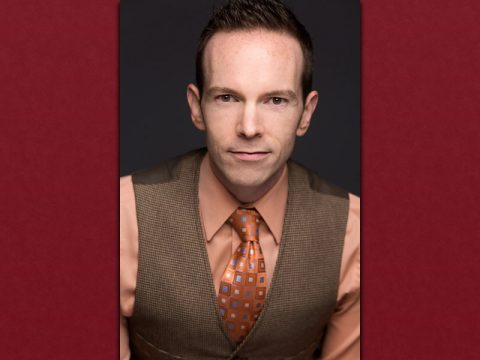 "One of the members of the group had been unable to perform due to illness, so I had sort of been on-call in case of a situation like what ended up happening," Bailey said. "I got the call, and I ended up performing on 22 shows, with the possibility of doing 10 or so more before Tenore concludes their tour."
The group's third album, "The Impossible Dream" is a tribute to Broadway, featuring classic songs like "Almost Like Being in Love," "I Dreamed a Dream" and "Climb Every Mountain." Bailey joined Tenore on 17 of their 19 songs, testing his abilities with a short turn-around from phone call to final call in his debut performance.
"I was asked to join and I sort of had to learn the songs by myself because they were already on tour by that time," Bailey said. "By the time I joined them, I had time for just one practice with the other members before we had to take the stage. It was definitely a challenge to learn everything I needed to know in a vacuum like that."
Each member of Tenore has the opportunity to perform a solo during the show, with Bailey's chance coming during a solo performance of "Over The Rainbow," a ballad from the 1939 movie "The Wizard of Oz." Bailey, who received his PhD in fine arts from Texas Tech University, said he had a unique brush with fame during a performance in Texas when he was approached by an audience member touched by his performance of the song originally made famous by Judy Garland.
"We had just finished a show in Corpus Christi when I was approached by an older woman who gave me a big hug during our meet and greet session and told me she was the goddaughter of Billie Burke, who played Glinda the Good Witch in 'The Wizard of Oz,'" Bailey said. "She told me she was happy to hear me perform, and that it made her happy to know that I was keeping her godmother's legacy alive by performing that song."
On off-days in the cities in which they performed, Bailey said he and his Tenore groupmates held free-of-charge workshops at area colleges and high schools. Bailey said the workshops were an opportunity to help aspiring young singers, as well as let students know a little more about his day job at Austin Peay.
"I definitely put out a few Austin Peay brochures at each of the schools we stopped at," Bailey joked. "But mostly, the workshops were a chance to work with aspiring young singers. I know how I would have felt if I was their age and a recording artist took the time to stop and work with me, so the workshops were really valuable experiences for all of us."
Bailey is an in-demand singer, composer and music director, joining singer and Broadway actress ("Wicked") Kristin Chenoweth as a background vocalist for her December 2015 concerts at Schermohorn Symphony Center in Nashville, as well as performing on new cast recordings for Disney and Music Theatre International's "The Little Mermaid (December 2015)" and "A Chorus Line (February 2016)."
In 2016, Bailey served as a featured background vocalist with internationally renowned vocal group, Celtic Woman. Bailey joined the group as they continued their "Destiny" world tour with two shows in Nashville at the Tennessee Performing Arts Center's Jackson Hall.
For more information on APSU's Department of Theatre and Dance, visit www.apsu.edu/theatre-dance