Clarksville, TN – Austin Peay State University convened its inaugural Board of Trustees meeting Thursday, March 30th, completing the transition from the Tennessee Board of Regents (TBR) to its own local governing board.
Austin Peay President Alisa White, joined by Tennessee Governor Bill Haslam and observed by University faculty and staff, as well as media and members of the community, called the 'historic' first meeting to order.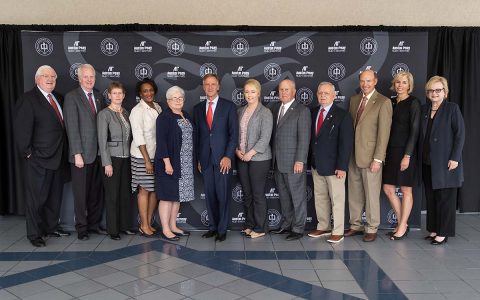 "This is a very historic day for Austin Peay State University," White said. "Governor Haslam offered the FOCUS Act as a way for institutions to have more direct support and oversight and I thank him for making education a priority."
The institutional board was created as part of Haslam's FOCUS Act, which the state passed last year, changing the governance structure of higher education in Tennessee and the relationships between TBR, the six TBR universities and the Tennessee Higher Education Commission.
The act called for the establishment of a Board of Trustees for Austin Peay and the other five universities. The Austin Peay Board of Trustees will ultimately assume most of the oversight previously provided by the TBR.
In accordance with the legislation, the board is made up of 10 members—eight members nominated by the governor, one faculty member selected by the APSU faculty and one nonvoting student member appointed by the APSU Board of Trustees.
Last month, the Tennessee General Assembly confirmed Haslam's eight board nominees and the APSU faculty's nominee, Dr. Nell Rayburn, APSU professor of mathematics.
The eight nominated board members have various connections to the University and the Clarksville community. Larry Carroll, Valencia May and Robin Mealer are Austin Peay alumni, while Billy Atkins, Katherine Cannata, Don Jenkins, Gary Luck and Mike O'Malley each have played prominent roles as supporters of the University as well as the region.
O'Malley was elected board chair during the meeting, with Cannata voted in as vice chair. Additionally, White was ratified as University president.
One of the board's first actions was the appointment of a non-voting student member. Following a review of applications, the board appointed Crystal Wallenius to serve as student trustee.
Among the agenda items were the adoption of bylaws, a code of ethics and a 2017 meeting calendar. The new bylaws and policies replace the previously existing policies established by TBR. The trustees also approved the establishment of a Bachelor of Science in engineering physics, and a proposal will be submitted to the Tennessee Higher Education Commission as the last step in the approval process.
University board meetings will be held quarterly, and will be open to the public with a livestream available online. The meeting calendar, meeting agendas and recordings are available online at www.apsu.edu/president/board-meeting-materials
The next board of trustees meeting is scheduled for May 18th-19th.