March 2017 Statistics Reveals Tennesseans are Finding Jobs in a Growing Workforce

Nashville, TN – Tennessee Department of Labor and Workforce Development (TDLWD) Commissioner Burns Phillips announces a preliminary unemployment rate of 5.1 percent for March, positively shifting from February's revised rate of 5.3 percent.
This progress matches the U.S. preliminary rate's decline of two-tenths of a percentage point to 4.5 percent.
"This report shows Tennesseans are finding work in a growing workforce," shared Commissioner Burns Phillips.
Over the past year, Tennessee's unemployment rate increased by half a percentage point to 4.6 percent while, the national rate of 5.0 percent decreased by half a point.
TDLWD's commissioner continued, "When the labor force grows quicker than residents can find work, unemployment rates take a hit and that's exactly what we've seen over the past 12 months."
From February to March, the total nonfarm employment increased by 8,600 jobs. The largest increases occurred in administrative/support/waste services, local government, and state government.

"We're bringing a great number of job opportunities to the state, helping us achieve our main objective of putting the people of Tennessee to work. This month's rate shows the hard work of several state agencies is paying off," he concluded.
Nonfarm employment increased over the year with 63,500 jobs. The largest increases occurred in the following industries: professional/business services, leisure/hospitality, and trade/transportation/utilities.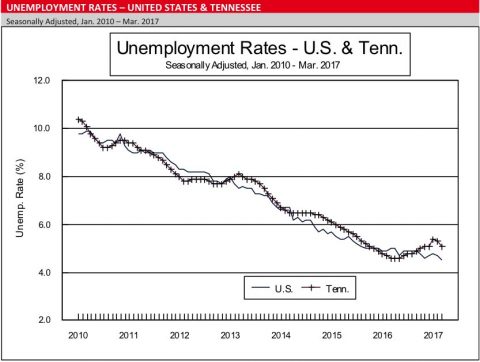 The Economic Analysis and Labor Force Estimates are prepared by the Employment Security division's labor market information specialists. The division reports metrics and contextual information as it relates to employment, income, and population in Tennessee. Labor force topics are narrated in monthly newsletters and additional resources are available on www.Jobs4TN.gov
The county unemployment release for March 2017 will be published on Thursday, April 27th, 2017 at 1:30pm CT.
Sections
News
Topics
Burns Phillips, Nashville TN, Tennessee, Tennessee Department of Labor and Workforce, Tennessee Unemployment Rate, Unemployment Rate