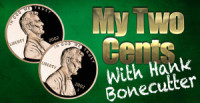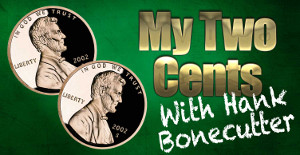 Nashville, TN – Well, now they've gone and done it. Those Nashville Predators have won their second round playoff series against the St. Louis Blues. They've done forged themselves into the record books, and will play for the Western Conference Championship against a yet to be determined opponent.
I don't know if Predators fans can take it up another notch, but if there was a fan base that's willing to say, "hey, hold my beer, and watch this" it's Nashville.
I've said all along that being at the Bridgestone Arena during a hockey game is the most earth shattering experience and I've seen AC/DC, Ted Nugent, and Cheap Trick in concert and by God, those were LOUD!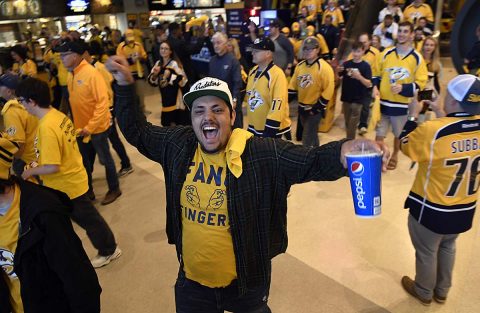 But NOTHING like this.
At the start of the playoffs, fans were like, "oh no, not Chicago in the first round" or "well, you've got to play them sometime" or "hell, I don't care who we play." But after the Chicago sweep, we all shrugged our shoulders and thought, "Hey, maybe, just maybe…."
Started to get a little cocky.
Then it was St. Louis. The "Big Blue Brutes." We took six games to dust them off.
NEXT?
So with their history making step to the conference finals, Predators fans are all over the map, AND lower Broadway.
We're entering uncharted territory. We're not sure what to expect, but we believe, and we're ready to grab the bull by the horns and see if we can ride the full 8 seconds.
It seems that a different player steps up each night. You expect Filip Forsberg, Mike Fisher, James Neal, P.K Subban or Ryan Johansen, But, Vern Fiddler? Cody Mcleod? Mattias Ekholm?
Who? What? Huh?
HEY, HOLD MY BEER AND WATCH THIS!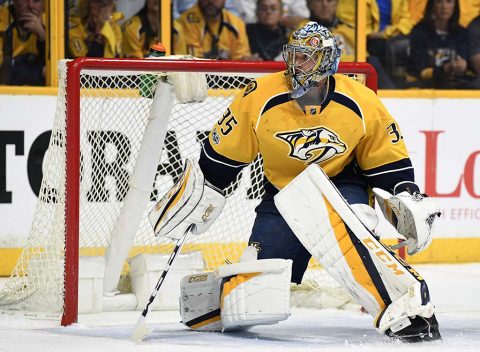 But there's no question that the man who is the rock, the wall, the backstop, the heart and soul of this run, is Pekke Rinne. He's the longest tenured player on this squad, and this is his best chance to win a Stanley Cup. Nobody excites the Bridgestone Arena crowd like Pekke. Not another player is more loved than Pekke.
It's been a real thrill to have witnessed him play. To be a part of what could be a historical run to the Stanley Cup. To see the celebrities who come to the games. Country music stars, NBA stars, Titans players, rock stars and more.
I don't know how this will all end, but it's been pretty awesome so far. Kind of like bumping into Steven Tyler or Joe Walsh at a lower broadway honkey tonk.
"Hey, hold my beer!"