#7 Austin Peay (26-28, 13-16 OVC) vs. #8 UT Martin (25-29, 12-18 OVC)
Tuesday, May 23rd, 2017 | 6:00pm CT
Oxford, Alabama | Choccolocco Park
Oxford, AL – After winning its final two regular-season contests to forge its way into the 2017 Ohio Valley Conference Baseball Championship, the seventh-seeded Austin Peay State University baseball team will face eighth-seeded UT Martin in a 6:00pm, Tuesday, play-in contest at Choccolocco Park.
The play-in contest between the Govs and Skyhawks is an elimination game with the winner advancing to the double-elimination portion of the bracket. There they will face No. 2 seed Morehead State in a 7:00pm, Wednesday contest.
Tickets for the OVC Baseball Championship are $10.00 per day or $25.00 for the tournament all-session pass and may be purchased at the gate. All 14 games of the 2017 Championship can be seen free online through the OVC Digital Network.
APSU-UTM Season Series
Austin Peay won the regular-season series, 2-1, against UT Martin just one month ago. The Governors rolled 19-4 victory in the series opener but saw UT Martin rally from a four-run deficit in the ninth inning to win in walk-off fashion, 10-8, in Game 2. Austin Peay won the finale, 8-5, thanks to Chase Hamilton's three-run home run in the seventh inning.
The finale also saw APSU's Alex Robles become the first known Division I player to record a win and go 5-for-5 while hitting for the cycle in the same contest.
Game 1: Rye shines, Govs bats thunder in win at UT Martin | PDF Box Score
Game 2: Govs clipped by Skyhawks walkoff rally | PDF Box Score
Game 3: Robles hits for cycle, Hamilton secures win against Skyhawks | PDF Box Score
Govs-Skyhawks Tourney History
Austin Peay and UT Martin have only met once previously in the OVC Baseball Championship, more than two decades ago. The Governors and Skyhawks last faced each other in the 1996 tournament, which also saw eight teams qualify, with APSU claiming a 16-1 victory in the first game of the Austin Peay bracket (the Top 2 teams each hosted their half of the bracket a week before the final four met).
First Hacks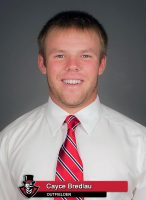 Redshirt junior left fielder Cayce Bredlau has reached safely in 24 consecutive games dating back to April 1 and leads the Govs in batting average (.330) and on-base percentage (.439, 18 BB) in that span. He also brings a 13-game hit streak (.367, 18-for-49, 9 RBI) into the tournament which is the second-longest by a Govs hitter in 2017.
Junior infielder Garrett Giovannelli has started at shortstop in nine of the Govs last 10 games, he led the Govs with a .339 batting average in the regular season's second half (started April 7th). Senior first baseman Dre Gleason was held hitless in the EIU series (10 AB) after posting a three-hit outing against Lipscomb, last Tuesday, his first three-hit outing since April 14th (at EKU).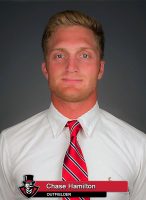 Since April 29th, senior right fielder Chase Hamilton has batted .358 (19-for-53) with three home runs and 12 RBI, boosting his season average 31 points over the regular season's final 14 games. Sophomore Brett Newberg is batting .375 (6-for-16) off the bench (as a pinch hitter or late defensive substitute) this season with three doubles and two home runs.
Redshirt freshman infielder Parker Phillips was hit by a pitch twice in Friday's series finale at EIU and now has 20 HBPs in 2017, extending his own team record. Redshirt freshman Max Remy was responsible for all three RBI in the Govs victory at Lipscomb, Tuesday, and his 3-for-5 outing kicked off a six-hit week (.400 BA) that included a pair of triples at Eastern Illinois.
Senior utility man Alex Robles had two key hits in the EIU series: his seventh-inning sac fly in Game 2 gave the Govs a 6-4 lead en route to a 9-6 win and his eighth-inning three-run home run in Game 3 tied the game as the Govs rallied for a 7-5 win. Sophomore catcher Alex Sala has started five of the Govs last six games behind the plate.
Freshman utility man Malcolm Tipler is batting .286 (12-for-42) in May, including batting .455 (5-for-11) with three walks against Eastern Illinois last weekend. Junior center fielder Imani Willis became the first Govs hitter to post two five-RBI outings this season after going 2-for-5 with five RBI against Eastern Illinois, including a game-winning three-run home run. Willis batted .322 with 22 runs scored in the regular season's second half.
Power Performance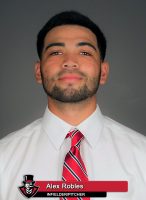 Austin Peay has hit a program record 77 home runs in 2017, fifth most among Division I teams entering the postseason. The Govs also enter the OVC tournament ranked No. 5 in home runs per game (1.44) among Division I teams. The Govs record average is 1.25 home runs per game set in 1999. APSU remains ranked 16th in slugging percentage (.782), 25th in doubles per game (2.10) and 44th in scoring (6.8 runs per game).
Robles' walk-off grand slam, May 10th against Lipscomb, was the Govs 73rd home run this season, breaking the program's single-season record set in 2001. It also was APSU's first grand slam this season and nearly a year to the day since its last grand slam. Giovannelli's April 25th home run made him the 14th different batter to leave the park in 2017, extending the program record for most players with a home run in a season.
Toeing The Rubber
Staff Notes
APSU pitchers continue their torrid strikeout pace, racking up 438 Ks through 485.2 innings this season. It is only the fifth time in program history a Govs pitching staff has recorded 400 strikeouts in a season, all occurring since 2011, with the record of 466 strikeouts set during the 2013 season.
Their 8.12 strikeout rate currently ranks 86th nationally (7th in OVC). It would be just the third time in program history a Govs pitching staff has averaged more than eight strikeouts per nine innings. With Kelly's start at Lipscomb, last Wednesday, 11 of the Govs 14 pitchers have started a game this season.
Follow APSU Baseball
For additional coverage of Austin Peay's baseball team, follow the Govs on Twitter @AustinPeayBSB. Austin Peay's athletics department also maintains several social media accounts @LetsGoPeay (Twitter), /LetsGoPeay (Facebook) and /LetsGoPeay (Instagram).