Clarksville, TN – The Office of Public Relations and Marketing at Austin Peay State University won 13 awards during the Tennessee College Public Relations Association (TCPRA) spring conference and awards contest held May 24th-26th in Gatlinburg Tennessee.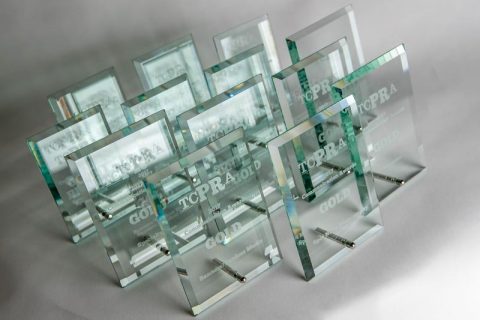 TCPRA – an alliance of communicators across the state representing public and private colleges and universities, technical schools, technology centers and community colleges – awarded gold, silver and bronze distinctions in various writing, design, publication and photography categories.
Entries were received for the contest period between April 1st, 2016, and April 1st, 2017.
The University's PR office captured the following awards:
Gold in the Illustration category for the "Plant the Campus Red" T-shirt.
Gold in the Outdoor Media/Banners category for street pole banners.
Gold in the Spot News Photography category for Mud Bowl photography.
Gold in the Low-Budget Publication category for the endowment report.
Gold in the Postcard/Invitation category for the 2017 Candlelight Ball invitations.
Gold in the Ad Series category for APSU Alumni Magazine donor advertisements.
Gold in the Specialty Item category for holiday gift bowls presented to donors.
Silver in the Promotional Video category for the 2017 Candlelight Ball.
Silver in the Reports Printed category for the 2015-2025 APSU Strategic Plan.
Silver in the Special Event Less Than 7 Days category for the 2016 UPAA Conference, hosted at APSU.
Silver in the Sports Photography category for the OVC Basketball Tournament.
Bronze in the Feature Writing category for Fall 2017 APSU Alumni Magazine feature on the 2017 total solar eclipse.
Bronze in the Electronic Newsletter category for The Sentinel email newsletter.
The APSU Office of Public Relations and Marketing staff includes Bill Persinger, executive director; Rollow Welch, assistant director of publications; Charles Booth, assistant director of communication; Michele Tyndall, manager of printing services and projects; Kim Balevre, graphic designer; Colin Harris, communication specialist; Beth Lowary, University photographer; Hannah Bradley Eden, coordinator of multimedia and webdesign; Lori Moore, office supervisor; and Nicki Cornelius, marketing manager.
The office is part of the APSU Office of Advancement, Communication and Strategic Initiatives, with Derek van der Merwe as vice president.
Sections
Education
Topics
APSU, APSU Candlelight Ball, APSU Office of Advancement, APSU Office of Public Relations and Marketing, Austin Peay State University, Beth Lowary, Bill Persinger, Charles Booth, Clarksville TN, Derek van der Merwe, Gatlinburg TN, Kim Balevre, Michele Tyndall, OVC Basketball Tournament, Rollow Welch, Solar Eclipse, TCPRA, Tennessee College Public Relations Association