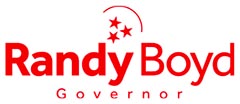 Clarksville, TN – Randy Boyd has announced that Montgomery County Mayor Jim Durrett has endorsed and is working in support of his Republican campaign for Governor. Mayor Durrett is the first County Mayor from Middle Tennessee to endorse Boyd. He joins nearly two dozen East Tennessee County Mayors who endorsed Boyd last month.
"As Commissioner of Economic and Community Development, there were no better local partners than those in Clarksville and Montgomery County," Boyd said. "And their success is a direct result of their great team and strong leadership, starting with Mayor Jim Durrett. I am honored to have his help and support in my campaign for Governor."
During Boyd's tenure as ECD Commissioner, Montgomery County experienced significant job growth and more than $1.65 billion in direct investment from companies including LG Electronics, Hankook Tire, and Google.
Boyd has also been actively engaged with local education leaders in Montgomery County to continue to build their top quality workforce, and with key leaders and heroes at Fort Campbell, who go to work each day to defend America and keep our nation safe.
"I worked closely with Randy during his time as ECD Commissioner and saw firsthand his ability to deliver on the jobs and resources Montgomery County needs to thrive. His leadership still impacts the lives of our citizens and military personnel who call Montgomery County home and I have no doubt he will extend this energy to all of Tennessee," Mayor Durrett said.
Although the Republican primary election for Governor is more than a year away, Boyd has already visited all 95 counties in the state and actively campaigned in nearly 70 counties since his announcement in March.
"Repeatedly visiting all 95 counties is essential to my desire to listen and learn about the needs of Tennesseans in every corner of the state. Our continued partnership with county mayors has provided a firsthand look at the true needs of local governments and how we can further empower them," said Boyd.
A successful entrepreneur, business and philanthropic leader, Boyd is the founder and chairman of Radio Systems Corporation, which is headquartered in Knoxville. First started out of the back of Boyd's van, the company today produces over 4,600 pet products under brand names such as Invisible Fence, PetSafe, and SportDOG, with more than 700 employees in 7 countries and annual revenues of $400 million.
Boyd previously served in Governor Bill Haslam's cabinet as the state Commissioner of Economic and Community Development, and earlier while serving as the Governor's Special Advisor on Higher Education was the architect of the state's Drive to 55 workforce development initiative, and the tnAchieves and Tennessee Promise scholarship programs to help more young people go to technical or community college tuition-free.
Boyd is also owner of Boyd Sports LLC, owner of the Tennessee Smokies Baseball team, the AA affiliate of the Chicago Cubs, and the Johnson City Cardinals, a rookie league affiliate of the St. Louis Cardinals.
Boyd and his wife Jenny have been married for 32 years and have two children, Harrison and Thomas, a daughter-in-law Lindsey, and a beloved dog, Oskar. They reside in Knoxville and are members of Erin Presbyterian Church.
For more information about Randy Boyd and his campaign for Governor, please visit RandyBoyd.com — like him on Facebook at RandyBoydTN, or follow him on Twitter @RandyBoyd.