APSU Sports Information
Lexington, KY – Both Austin Peay State University volleyball programs have received the American Volleyball Coaches Association's Team Academic Award, announced Monday.
It is the fifth consecutive year the indoor volleyball program has been recognized. Meanwhile, the beach volleyball team receives the award in its first season and was one of only 19 beach programs nationwide to earn the honor.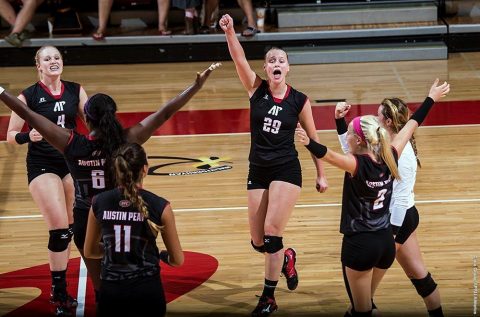 A record 822 teams at all levels were recognized for their academic accomplishments during the 2016-17 academic year. That total included 145 Division I women's indoor volleyball programs.
The AVCA Team Academic Award is celebrating 25 seasons after it was initiated during the 1992-93 academic year to honor collegiate and high school volleyball teams displaying excellence in the classroom.
Teams are recognized by maintaining at least a 3.30 cumulative team grade-point average on a 4.0 scale. It is the seventh time since 2000 the Austin Peay indoor volleyball team has been recognized, joining the 2001-02, 2003-04 2012-13, 2013-14, 2014-15 and 2015-16 squads.
"Our academic success has been based on the same hard work we put into our performance on the court," said Governors head coach Taylor Mott. "I want to congratulate our players for their performance and thank our academic support staff, specifically Amy McCollum, for their efforts."
During the 2016-17 academic year, 11 volleyball student-athletes were named to APSU's Athletics Directors honor roll (3.0+ GPA) in at least one semester and six earned recognition in both semesters. Returnee Kristen Stucker, posted a perfect 4.0 GPA and earned President's List during both semesters.