Clarksville, TN – Riverfest 2017 kicked off Thursday night, September 7th, 2017 with its annual Art Experience, a juried art competition open to people of all ages and experience levels.
Kara Zahn is Clarksville Parks and Recreation's event planning specialist and Art Experience coordinator. "This event was formerly known as Tour D'Art," Zahn said. "For the last three years the different elements have all been combined to create a single event which has been held at the Wilma Rudolph Event Center."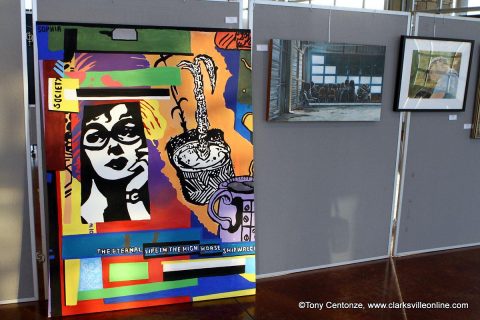 This year's Art Experience started with a juried art show, featuring four divisions, Youth, Senior, Amateur, and Professional, and multiple categories including 2D Mixed Media, 3D Sculpture & Fiber Arts, Drawing, Painting, and Photography & Digital Media.
After the art show awards presentation, selected submissions in The 52-Hour Film Festival were screened and winners were announced.
"It's important, for young artists especially, to be in this type of environment and see how these shows are run," Zahn said. "Riverfest is all about art, music, and culture, so this is a very important part of the weekend. We have been doing art events as part of Riverfest for about the last 20 years."
Zahn said about 180 people attended this year's event. There were 120 pieces submitted and 97 selected for the show after juror review.
The 52-Hour Film Festival winners were:
1st Place Sanstorm, Diamond Heist
2nd Place Auto Focus, 52 Film Conspiracy
3rd Place White Door Productions LLC, A Finny Occidental of Love
Best Use of Clarksville White Door Productions LLC, A Finny Occidental of Love
24 Hour Challenge Auto Focus, 52 Film Conspiracy
Best Use of Line Three Eighteen Productions, Live Like No Tomorrow
Best Use of Name White Door Productions LLC, A Finny Occidental of Love
Best Use of Prop Conduit Connection, Champions of the Cumberland
Best of Show winner in the 2017 Riverfest Juried Art Show (Professional Division) was Sophia Eisenbart for her painting, Strange Emotions. Eisenbart says the painting depicts the dilemma of a woman experiencing a lot of complex emotions, Her style is a mix of graphic design and pop art, with the subject in black and white contrasted by the use of bright colors.
Winners of this year's Riverfest Juried Art Show were:
Youth Division
2D Mixed Media 1st – Spencer Brooks, 2nd – Asjion Catlett, 3rd – Ebony Kittrell
3D Sculpture & Fiver Arts 1st – Jamie Robinson, 2nd – McKenzie Pepper, 3rd – Dimitrius Scameheorn
Drawing 1st – Marcoyeton Talley, 2nd – Junias McLauchlan, 3rd – Ebony Diaz
Painting 1st – India Laporte, 2nd – June Hyde, 3rd – Christiana Cooke
Photography & Digital Media 1st – Chloe Chavez, 2nd – Haley Collins, 3rd – Jessie Worthy
Overall 1st – India Laporte, 2nd – Marcoyeton Talley, 3rd – Jamie Robinson
Best in Show Haley Collins
Senior Division
2D Mixed Media 1st – Pamela Boyd
Painting 1st – Jackie Langford, 2nd – Mary Baggett, 3rd – Pamela Boyd
Overall 1st – Jackie Langford, 2nd – Mary Baggett, 3rd – Pamela Boyd
Best in Show Jackie Langford
Amateur Division
2D Mixed Media 1st – Symphony Medley, 2nd – Beatrice Brockman, 3rd – James Davis
3D Sculpture & Fiber Arts 1st – Jackie Lewis, 2nd – Susan Lawless, 3rd – Lillian Nosworthy
Drawing 1st – Paula Edwards, 2nd Christy Napier, 3rd – Shannon Stone
Painting 1st – Elizabeth Ladd, 2nd – Christina Cinkovich, 3rd – Megan Davis
Photography & Digital Media 1st – Jennifer Anderson, 2nd – Jaclyn Bible, 3rd – Rob Franklin
Overall 1st – Susan Lawless, 2nd – Jennifer Anderson, 3rd – Helen Gooding
Professional Division
2D Mixed Media 1st – Samantha Black, 2nd – Adam Roberts, 3rd – Quintin Watkins
3D Sculpture & Fiber Arts 1st – Ramiro Santoyo, 2nd – Anita Gillis
Drawing 1st – Janet Felts
Painting 1st – John Sharp, 2nd – Carolyn Conklin, 3rd – Sophia Eisenbart
Photography & Digital Media 1st – Lucas Chambers, 2nd – Alex Sumner, 3rd – Natasha Cole
Overall 1st – Samantha Black, 2nd – Travis Stanley, 3rd – John Sharp
Photo Gallery