Clarksville, TN – On Friday, October 27th, 2017, around 6:30am, while patrolling, Clarksville Police Officers heard what sounded like gunfire in the area of Daniel Street.
Officers spoke to witnesses in a nearby and were told a vehicle may have been shot and was possibly on fire. A white, two door sedan was found abandoned and unoccupied at 911 Chadwick Drive.
The vehicle had struck the house and both the car and house were ablaze.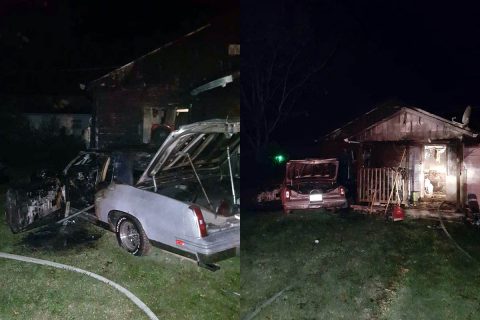 The resident at 911 Chadwick was outside of the house and uninjured.
Once the fire department had extinguished the blaze, the scene was cordoned off by Police.
Based on the preliminary investigation, the vehicle had been struck by several rounds of gunfire, appeared to have fled the scene striking several mailboxes before it hit the house at 911 Chadwick Street and caught on fire. The gunfire did appear to be directed at the vehicle and not random.
The investigation is ongoing. Anyone with information can call Detective Pew, 931.648.0656, ext. 5365 or the TIPSLINE 931.645.8477, or go online and submit a tip anonymously at www.P3tips.com/591