APSU Sports Information
Edwardsville, IL – Austin Peay State University's volleyball team rallied from a two-set deficit to win a five-set (23-25, 22-25, 25-20, 25-20, 15-8) Ohio Valley Conference decision against SIU Edwardsville, Saturday afternoon at the Vadalabene Center.
Austin Peay (23-4, 11-1 OVC) dropped the first two sets of a match for only the fourth time this season and had fallen into a 12-7 deficit in the third set.
But the Govs rallied to tie the set 17-17 and then scored eight of the final 11 points to extend the match.
From there, Austin Peay would not trail again, winning both the fourth and fifth sets in wire-to-wire fashion.
SIUE (19-5, 9-3 OVC) used a hot offensive run to build its 2-0 lead. The Cougars opened with 15 kills and a .256 attack percentage to win the first set by a narrow margin.
SIUE pushed its offense further in the second set with 17 kills and a .350 attack percentage, but again needed a late burst to claim the win.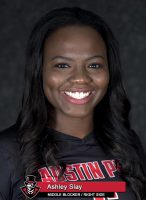 However, SIUE would record only 23 kills after taking a 12-7 lead in the third.
Senior Ashley Slay led the Govs with 20 kills, her fourth 20-kill performance this season and first in OVC play. She did it while also posting a .421 attack percentage along with three blocks and a service ace. Redshirt junior Christina White added 11 kills while sophomore Jenna Panning chipped in her second 10-kill effort this season.
Ashley Witt and Jackie Scott each had 15 kills to lead the SIUE offense.
Set by Set
SET 1 | SIUE 25-23: A nip-and-tuck affair early saw SIUE break out to a five-point lead, 15-10, after a 4-0 run that forced an Austin Peay timeout. The Govs responded with eight of the next 11 points to tie the set, 18-18, forcing a SIUE timeout.
The Cougars would use a 5-2 run to get to set point, 24-21, and Austin Peay would fend off two set point chances before Dylynn Otte would end the set with a kill. The Govs posted 14 kills in the set, Logan Carger leading the way with four kills.
SET 2 | SIUE 25-22: Austin Peay tried to break away in the second set, opening with a 9-4 run. However, SIUE reeled the Govs back and tie the set 14-14 on a 3-0 run. SIUE would gain a two-point lead, 19-17, only to see APSU tie the set again 22-22 after a Kristen Stucker service ace. But SIUE recorded back-to-back blocks to win the set, 25-22. Slay opened the match with six kills on 11 errorless attacks (.545 attack percentage).
SET 3 | GOVS 25-20: SIUE threatened to end the match in three, using a 4-0 run to open up a 10-5 lead that it extended to 12-7. But Jenna Panning ended the Cougars burst with a kill and the Govs began their climb back into the match. Panning would prove big in that climb, notching kills to tie the set at 16-16 and 17-17 before another kill gave the Govs the lead for good at 19-18.
Austin Peay closed with the final three points, including a Moore service ace and a Slay kill. Slay was perfect with seven kills on seven swings in the third and the Govs did not commit an attack error in the frame (17 kills/32 attacks/.531 attack percentage).
SET 4 | GOVS 25-20: The momentum was firmly in the Govs control from the third set and they used it to break out to an insurmountable 17-5 lead in the fourth set. SIUE threatened with a 6-1 run that forced a Govs timeout at 18-12, but Austin Peay ended the match by winning seven of the final 15 points. Panning and White each had five kills to pace the Govs 14-kill offense.
SET 5 | GOVS 15-8: The tiebreaking fifth-set saw the teams traded points early, but a 3-0 burst punctuated by kills from Stucker, Slay and Moore gave the Govs a 7-3 lead. Austin Peay would manage that lead to 13-8 before Moore notched a kill and Ginny Gerig ended the match with a service ace.
Austin Peay again went errorless on its attack in the fifth, recording eight kills on 13 attempts (.615 attack percentage).
Govs Notably
MAGIC NUMER = 3.

APSU's victory slashed its magic number for the outright OVC title to three against SIUE. Any combination of APSU wins and SIUE losses totaling three in the final four matches would give the Govs the regular-season title outright and the right to host the OVC Volleyball Championship.
WHAT A COMEBACK!
After falling behind 12-7 in the third set and trailing 2-0 in the match, the Govs found their top gear. Austin Peay closed the third set with an 18-8 and did not trail in either the fourth or fifth sets. The Govs also held SIUE to just 23 kills after allowing 32 in the first two sets and seven to start the third set.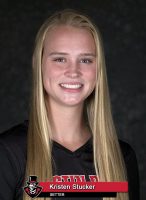 DOWN 0-2, NOT A PROBLEM.
Austin Peay fell into an 0-2 hole for only the fourth time this season. It was the Govs first win after losing the first two sets since October 19th, 2016 at Middle Tennessee.
PERFECT IN FIVE.
Austin Peay remained unbeaten in matches that went to a tiebreaking fifth set this season, improving to 5-0. The Govs last lost a five-set contest at Belmont last season (October 21st, 2016).
STUCKER FLYS PAST 3,000.
Needing just three assists to become the fifth Govs setter to record 3,000 career assists, Kristen Stucker put forth a 58-assist outing to finish the night with 3,055 career assists.
Next Up for APSU Volleyball
With the win, Austin Peay extended its lead in the OVC regular-season race to two matches over SIUE with four matches to play. The Govs will briefly step out of conference play to face in-state foe Middle Tennessee in a 7:00pm, Wednesday contest in Murfreesboro, TN.