Clarksville, TN – The All State, Austin Peay State University's student newspaper, earned eight national awards at the 2017 Fall National College Media Convention in Dallas, Texas, on Saturday, October 28th, 2017.
The conference was presented by the Associated Collegiate Press and the College Media Association.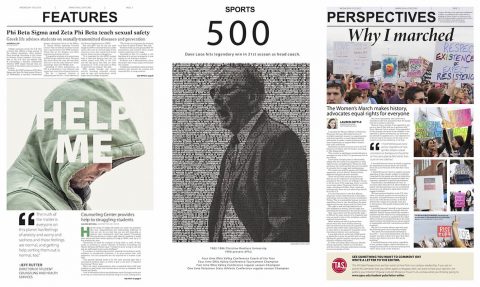 The Newspaper earned the following Awards:
ACP Best of Show
6thplace for Newspaper Four-Year Weekly
9thplace for Website Large School
CMA Pinnacle Awards, Best of Collegiate Design
3rdplace for Best Newspaper Feature Page/Spread
Andrew Wadovick, senior and features editor
Honorable Mention for Best Newspaper Sports Page/Spread
Glavine Day, alumna and former sports editor
Honorable Mention for Best Editorial Illustration
Glavine Day, alumna and former sports editor, and Lewis West, senior and former graphic
designer
Honorable Mention for Best Social Media Main Page
ACP Individual Awards
Honorable Mention for Design of the Year in Newspaper Page/Spread
Glavine Day, alumna and former sports editor
Honorable Mention for Story of the Year in Editorial/Opinion
Lauren Cottle, alumna and former perspectives editor
Wadovick's 3rd-place design featured Student Counseling Services and illustrated the need students have for mental health resources.
"I'm a writer by passion, but seeing my design rank as high as third, knowing my designs are capturing the interest of our readers, is so uplifting," he said. "When I look at this award, knowing what it represents, I know I belong. I know I am right where I need to be."
Day and West collaborated together to create an illustration using all of former APSU Men's Head Basketball Coach Dave Loos' 500 wins.
"Once it was all designed and laid out on the page, everyone in the office was just kind of in amazement that as a newspaper we were capable of making something so amazing," Day said. "I think we were all proud of it for different reasons. It was so much fun building it and staying late and fixing every little detail."
Day earned a 2nd place CMA Pinnacle Award last year, and is currently working at The Robertson County Connection in White House, Tennessee, as a sports reporter.
Cottle's Honorable Mention ACP Story of the Year for Editorial/Opinion was on the Women's March in Nashville.
"Looking back on the event, it is easy to become discouraged because of the apathy and disillusionment that has become widespread among many Americans during this presidency," she said. "However, I see the Women's March as a resistance that showed the world that intolerance and hateful divisions will not be accepted any longer."
During the conference, staff members attended multiple sessions relating to the media industry and heard from keynote speakers Dale Hansen, Hugh Aynesworth, Bob Schieffer and Stella Chávez.
Attending the conference from The All State were:
Andrew Wadovick, senior and features editor
Celeste Malone, graduate student and editor-in-chief
Jillian Ferebee, freshman and perspectives writer
Noah Houck, junior and sports editor
Patrick Armstrong, coordinator of Student Publications & Marketing and adviser
Taylor Harroll, sophomore and staff photographer
The CMA Pinnacle Awards had more than 2,800 entries across nearly 100 categories. The entries were judged by media professionals from across the country. The ACP Best of Show Awards were against all school attending the conference.
"Our students are continually learning and dedicated, and are competing at a national level," Armstrong said. "Last year at this time they earned two national awards. This is incredible."
Already this year they have earned eight national awards. Last year, the newspaper earned a total of 19 awards at state, regional and national levels. The All State is housed in Student Publications and part of Student Affairs.
"I am so proud of The All State staff. Each week they come into the office producing stories and pages that continuously leave me in awe," Malone said. "I cannot wait to see what we produce in the future."
The All State publishes each Wednesday in print during the fall and spring semesters, which is distributed on APSU's Clarksville and Fort Campbell campuses. It also publishes regularly online at www.theallstate.org
Readers can also connect with The All State on Facebook, Twitter (@TheAllState) and Instagram (@TheAllState_APSU).