APSU Sports Information

Champaign, IL – To the final whistle, to the final loose ball, to the very last moment, Austin Peay State University men's basketball team sought to make a little magic against Big Ten foe Illinois, Wednesday.
The Govs had chances into the final minute but couldn't get one last dagger to fall, dropping a hotly-contested 64-57 contest to the Fighting Illini at the State Farm Center.
The Govs took a 28-26 lead into the half thanks to bulldog defense—consistent readers of our postgame stories here at LetsGoPeay.com will notice that's a theme—and a breakout from senior Averyl Ugba, who scored the game's first points on a jumper and didn't stop the rest of the half, finishing the opening 20 minutes with nine points on 4-of-4 shooting.
Austin Peay would lead by as many as five with 9:02 remaining in the contest, on the heels of a 9-3 run that saw Ugba slam home a SportsCenter-worthy dunk and freshman Dayton Gumm rain in a well-time three-pointer.
The teams would trade buckets down the stretch, with Leron Black's free-throw at the 5:16 mark tying the game at 50. The Fighting Illini would finally pull away thanks to 6-of-8 free-throw shooting during the last five minutes, with Te'Jon Lucas scoring seven of his nine points over the final 1:53.
The Difference
Foul trouble—four Govs wound up with four or more fouls, with Austin Peay totaling a season-high 27 as a team—beget a substantial difference in attempts and makes at the charity stripe. Illinois was 20-of-28 at the line, while Austin Peay was only able to hit 7-of-13 attempts.
Notably
Illinois, a squad ranked 11th nationally in turnover margin, was minus-one against the Govs, Wednesday night. With 25 forced turnovers, Austin Peay's opponents are averaging 23.6 turnovers per contest over the last seven games.
Austin Peay held the nation's leader in three-point shooting, Aaron Jordan, without a make on two attempts from beyond the arc.
For the first time this season and fifth in his career, Porter-Bunton led the Govs in assists (three). He's now averaging 10.7 ppg, 5.3 rpg and 3.0 spg over the last three contests.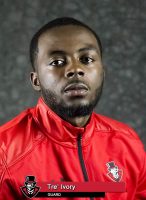 Additionally, both he and senior Tre' Ivory equaled their career-high in steals with four.
Ugba's two steals were an Austin Peay career-high for the Grambling transfer. With 15 points and eight rebounds on 7-of-10 shooting against Illinois, Ugba is posting 14.0 ppg and 6.6 rpg on 59.6 percent (28-of-47) shooting since the Bethel contest, November 22nd.
The loss is Austin Peay's first this season when leading at the half (28-26), outshooting its opponent (41.4 percent to 39.6), when holding the opponent to below 45 percent shooting or when the opponent scored less than 70 points.
Coaching Quotables with Head Coach Matt Figger
Overall thoughts
"Physically, we came to play—our physical effort was tremendous. Our execution and our turnovers just keep biting us when we're in games like this. We can't have empty trips or hesitation because we don't know. I probably did a terrible job with some of stuff around the four-minute mark, but I gotta give Illinois a lot of credit—they took us out of ball-reversal and things like that."
Postgame message

"I told them that I couldn't ask for the physical effort to be any better, but the mental part is what's frustrating me right now. The inexperience of being in that moment, to go make plays… I'm not satisfied with moral victories. There's no such thing; at the end of the year, nobody is going to remember we led for 23, 24 minutes of this game—they're going to remember that we lost. And that's what I'm telling my guys. They're hurting in there, and I don't blame them. I'm hurting for them."
On Averyl Ugba
"He's been in tune. From Thanksgiving break on, he's been our best player from a production standpoint. Our freshmen can be up and down, but he's been consistent."
Next up for APSU Men's Basketball

A 10-day hiatus will find the Govs through exams and well into December before they hit the hardwood again. On December 16th, APSU hits the road to take on Evansville in a 3:00pm afternoon game.