APSU Sports Information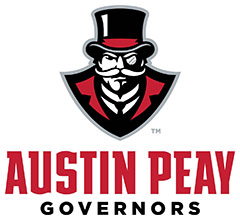 Clarksville, TN – Jeff Bibb and Ricky Cooksey have been longtime Austin Peay Athletics supporters and for the most part they have done so from two different approaches.
Bibb's support has been more from the development and philanthropic standpoint while Cooksey's has been of the more service nature, not that both haven't provided respective support from the other's methodologies.
They will become the 38th and 39th members of the Red Coat Society, APSU athletics' Hall of Fame of service, officially being inducted at halftime of the Govs men's basketball game, February 24th, against Murray State.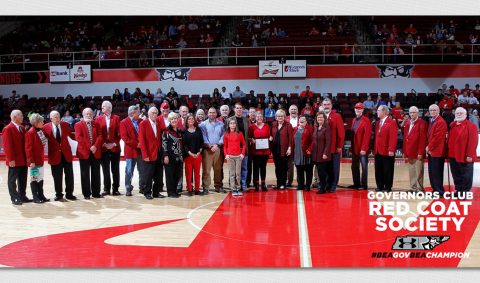 A reception will be held in the Governors Club Room in the Dunn Center between the 4:30pm women's basketball contest and the 7:00pm men's basketball game.
Bibb literally grew up on the Austin Peay campus. The son of Dr. Leon Bibb, who served 28 years as an industrial technology professor and more than 20 as faculty athletic representative (FAR), Bibb has had an almost unparalleled relationship with the University, even serving on the work crew that built the Dunn Center back in the mid-1970s.
Jeff graduated from Austin Peay in 1976, working in the University sports information and public relations department as an undergrad. After graduation, he remained at the University in the public relations department before he and Frank Lott formed Tractive Effort Communicates (later changed to Bibb and Lott Advertising before becoming BLF Marketing in 1991).
Their offices are located on Jefferson Street and, as a result, Bibb's heart never has been too far away from Austin Peay and APSU athletics. When Austin Peay officially retired the jerseys worn by football players John Ogles, Harold "Red" Roberts and basketball player Howard Wright in the late 1980s, Bibb and Lott produced the posters and retired jerseys display in the Dunn Center front lobby.
Bibb and his firm have worked on countless projects with his alma mater, including multiple athletics endeavors. For instance, Bibb and BLF was involved heavily in helping transform and commemorate Governors Park to Raymond C. Hand Park during 1993. In Summer 2014, when Austin Peay unveiled a new athletics logo and branding packet. Bibb and BLF worked alongside the University on this project, including much of the interior and exterior design work at Fortera Stadium.
Bibb has been APSU Foundation Board since 2004 and served as chair of the Austin Peay Athletics Hall of Fame Selection committee since 2006.
He, his family and friends also established and helped fund the Dr. Leon Bibb scholarship, annually presented to a graduate student "with excellent integrity and character, a desire to complete a graduate degree at APSU and a commitment to the success of the APSU athletics program."
In 2016, he and partner Lott were presented TBR Chancellor's Award for Philanthropic Service to APSU.
Originally from Robertson County, Cooksey worked for many years at International Label Company/Precision Printing and Packaging, and has been employed by Cumberland Electric Membership Corporation since 1996.
He has been an avid APSU basketball fan for nearly three decades, and for the last 15 years, has been a season ticket holder for APSU football, basketball and baseball, while also enjoying Govs volleyball. He has served as a member of the Govs Club board for many years, and was recently named to the Club's Executive Board. He has traveled to support the Govs at numerous OVC basketball and baseball tournaments, as well as to a few NCAA tournaments.
Around Austin Peay athletics, he is known for introducing trash-can cooking to APSU football tailgate events, cooking at both home and away games. He also has worked the grill numerous times for baseball/softball cookouts as well for the Plant the Campus Red volunteers.
He is easily heard expressing his opinions, usually with humor, to officials, and many OVC basketball referees know his voice, know where he sits in the Dunn Center, and have identified him on road trips as "that guy that goes to ALL the games." He befriended one particular OVC official, and traveled to Murray, Kentucky, to attend a worship service where that official serves as pastor.
Cooksey volunteered many years at the Governors Bass Tournament; raised funds through scholarship raffle ticket sales and basketball bash events, played in fund-raising golf tournaments and has donated to the purchase of several OVC Championship rings for Austin Peay athletes.
His wife, Janet, is usually nearby him at Govs games and events. His children, Amanda and Caleb, as well as his son-in-law, Brad Daniel, each hold an APSU degree. Amanda was a four-year Pom Squad member, including a two-year captain, and assistant Pom Squad coach; Caleb served as baseball manager, while Brad was a four-year baseball standout pitcher. Ricky is most proud of his grandchildren, twin girls, Kinslee and Brilee, and his grandson, Brody, and is anxiously awaiting the arrival of another grandson this spring.
To be eligible for the Red Coat Society, an individual must be a member in good standing of the Governors Club for at least five years, must have supported the athletic programs at Austin Peay through financial contributions or participation in Governors Club fundraisers and other events, must have supported more than one sport both at home and away whenever possible and must be recognized within the APSU community for his/her association with Austin Peay athletics.