Clarksville, TN – In the summer of 2017, Austin Peay State University unveiled a newly redesigned website, www.apsu.edu, to enhance the University's digital presence, and on February 13th, that website was named one of the best in the Southeast.
During the annual Council for Advancement and Support of Education District III conference in Atlanta, Georgia, Austin Peay received an Award of Excellence for Website Redesign.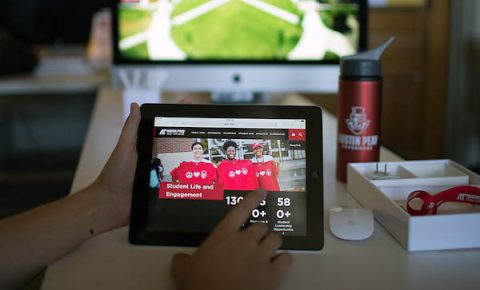 The Award of Excellence is one of the top distinctions a school can earn in any category.
"We're excited about this recognition because our Web Content Management Team worked for more than a year, analyzing our old website and finding a way to make the new one stronger and more accessible to potential students and parents," Hannah Eden, APSU web coordinator, said. "By incorporating video and strong photography, we hope to showcase what many of us already know—that Austin Peay is a great University."
During the conference, the University also earned a Special Merit Award for its Visit APSU advertising campaign, and a Special Merit Award for the design of the Austin Peay Holiday Gift Box.
The University's marketing and graphic design staff, as part of the Office of Public Relations and Marketing, developed both of these pieces. The Web Content Management Team is also coordinated through this office.
"Our University strategic plan is driving our intense focus on enhancing our brand position and effectively telling our story to our entire Austin Peay State University community," Derek van der Merwe, vice president for advancement, communication and strategic initiatives, said. "I am proud of our staff and the many University partners who are striving through this project to differentiate and position APSU as a leader in our region."
CASE District III advances and supports educational and professional institutions in the southeastern U.S. by enhancing the effectiveness of the alumni relations, fund raising, communications, marketing and other advancement professionals who serve them.
For more information about CASE III, visit www.casethree.org