Written by Joe Pitts
Tennessee State Representative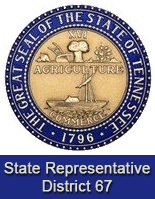 Nashville, TN – The Bounty Hunter Bill House Bill 2007/Senate Bill 2676 (Sen. Paul Bailey (R-Sparta) was heard in the House Criminal Justice Subcommittee this week. The bill was defeated by voice vote without a single question being asked.
"I regret we were unable to see this bill advance. We worked with law enforcement, and the bail bond industry for several months to come up with some very common sense changes that would enhance public safety," Rep. Pitts stated. "The vote was a surprise given the lack of questions or concerns raised by the committee during the hearing. I hope another tragedy, like the one in our community in 2017, doesn't happen before needed changes are made."
Property Tax Relief
Property Tax Relief for disabled Veterans, disabled persons and elderly low-income homeowners
House Bill 1496/Senate Bill 1675 (Sen. Mark Green, R-Clarksville) was passed in the House Local Government Full Committee and will be heard in the House Finance, Ways, and Means Sub Committee on February 21st, 2018. The bill also passed the Senate on February 15th, 2018. This legislation corrects a rule change made in October, 2017 which in effect would have caused individuals to lose their tax relief if the veteran, low-income elderly, and disabled persons who qualified for the relief were admitted to a nursing home for an indeterminate amount of time.
Credit Report Freeze
House Bill 1486/Senate Bill 2470 (Sen. Kerry Roberts, R-Springfield) passed the Consumer and Human Resources Subcommittee as amended and will be heard in the Full Committee on February 21st, 2018. The bill will prohibit a credit reporting agency from charging a fee to place, temporarily lift or permanently remove a credit freeze on their credit report.
The legislation became necessary after a nationwide security breach occurred in one of the credit reporting agencies, affecting almost half of all Tennesseans, exposing sensitive information which could lead to identity theft. The agency should not be in a position to profit from their error by charging a fee no matter how small the fee.
Jury Duty Legislation
House Bill 167/Senate Bill 208 (Sen. Mark Green, R-Clarksville) was passed as amended and will be heard in the Civil Justice Full Committee on February 20th, 2018. This legislation was brought to me by a retired educator who was caring for an elderly colleague when she was called to jury duty. The legislation would allow a person 72 years of age or older to be excused from jury duty if they request of the jury coordinator to be excused and mail in the simple paperwork to the county clerk.
"I told the story of this constituent that to serve at that time would be hardship due to her responsibilities as a caretaker," Rep. Pitts said. "This bill would only allow someone to be removed from the current pool as they are called, and not be removed from the jury pool permanently."
Visitors to the Hill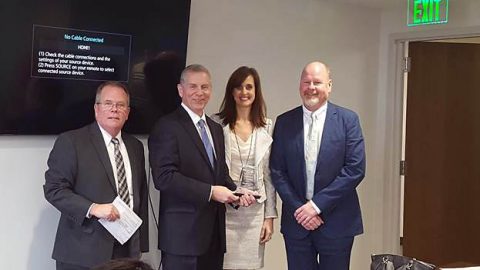 The United Ways of Tennessee honored Rep. Joe Pitts by presenting him with an award for Legislative Champion of the Year.
"I am so grateful for the honor from the United Ways of Tennessee and our United Way of the Greater Clarksville Region. The partner agencies of the United Way meet people "Our United Way agencies meet people where they are, free of judgement, and often in a crisis," said Pitts. "The secret of the success of United Way is really no secret at all. It is their focus on people and I encourage everyone to support your local United Way."
In the next legislative update, we will share more of the legislation sponsored by Rep. Pitts and other members of the Tennessee General Assembly, and provide weekly updates about the progress of these issues.
If you have questions about the above or other issues of concern, please call me at 615.741.2043, or email me at rep.joe.pitts@capitol.tn.gov