APSU Sports Information

Evansville, IN – Monstrous performances from senior Averyl Ugba and freshman Terry Taylor simply could not offset a white-hot shooting performance from Belmont, which brought Austin Peay's stay in the 2018 Ohio Valley Conference Men's Basketball Tournament to an end in the semifinals with a 94-79 defeat.
The Govs put the final touches to the OVC slate by proving wrong every doubter. Austin Peay, picked to finish 11th in the preseason coaches poll and dead last by the media, instead turned in an 18-14 record, finishing third in the regular season and making its second appearance in the conference tournament semifinals in the last three seasons.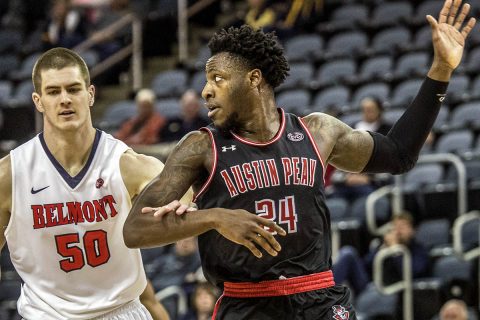 It was an inauspicious beginning for the Governors, who missed their first six shots and committed five turnovers before senior Averyl Ugba got the Govs on the board with a jumper at the 15:14 mark. Similar to Thursday night's quarterfinal matchup against Eastern Illinois, Austin Peay's early struggles staked its opponent to a sizable lead, with Belmont reeling off the game's first 13 points.
A banked-in three from the top of the key from freshman Terry Taylor gave Austin Peay its first spark, and the Govs ripped off a 17-8 run of their own, cutting the deficit four on another triple from the pride of Bowling Green High. Taylor finished the half with a team-high 12 points and put Austin Peay in prime position to close out strong in the opening 20 minutes.
On the defensive end, Belmont's motion offense created post mismatches, which the Bruins exploited late in the half for multiple inside looks; the beneficiary was Tyler Hadden—the 6-10 senior, whose previous career-high was 13 points, scored 14 in the first half against the Govs, and Belmont took a 45-34 lead into the break.
Austin Peay got good looks in the second half, hitting 51.7 percent (15-of-29) as a team from the floor. In a normal game, that would've certainly given the Govs a good opportunity at getting back in the contest and making a second-half push, especially given Zach Glotta's second-half effort, which included eight of his 11 points off the bench.
However, this game featured Belmont's Amanze Egekeze turning into a real-life NBA Jam character. Egekeze hit eight second-half three-pointers en route to a game-high 32 points; while Ugba and Taylor, the low-post duo which have defined the 2017-18 campaign for the Governors, both scored 20 in the same game for the first time as Governors—Taylor with 25 and Ugba with 23, while combining for 17 rebounds—Egekeze hit his first nine attempts from three, and was buffeted by sterling efforts from Austin Luke (18 points, 13 assists) and Dylan Windler (14 points, 12 rebounds).
The Difference
Egekeze. Nine straight three-pointers made was two off the NCAA record, set by Niagara's Gary Bossert, January 7th, 1987, against Siena.
Notably
Belmont finished with one steal, a team season-low and fewest by an Austin Peay opponent in 2017-18.
The loss is Austin Peay's first in the OVC Tournament since 2011 and first-ever to Belmont in Tournament play.
The Govs committed just eight turnovers, tying their season low set February 10th at Eastern Illinois.
With two more offensive rebounds, giving him 121 for the season, Taylor is now by himself in 10th place for offensive rebounds by a Division I freshman since 2009-10. And he moved into second place all-time in freshman scoring by a Governor with 488 points.
Twenty-two second-chance points for the Governors equaled their most against an OVC foe this season, tying their performance in the December 28th conference season opener against SIU Edwardsville.
Senior Tre' Ivory finished with seven assists, his most against a Division I opponent and one off his career-high.
Coaching Quotables with head coach Matt Figger
On the start of the game
"We forced three turnovers early, but couldn't convert, and we didn't do a very good job posting up at the start of the game. We had five turnovers to start the game and they capitalized on it, they are a really good team and we tried to keep them off the three-point line, but they killed us with the pick and roll in the first half."
On the run to get close
"We had gotten it to eight, and then had three or four empty trips. Had some shots go in and out, but it is what it is and I was hoping we could defend them a little better than we did, but give them credit they have a really good team and we kept fighting."
On the next steps for the program
"Keeping improving. Get better players, recruiting more talent, and adding more depth. We need to add the ability to score the ball from the perimeter on a consistent basis and we need a consistent front-court presence and rim protection."
Next Up for APSU Men's Basketball

The season is over… or is it? With a third-place regular season finish and trip to the tournament semifinals, Figger's crew may be in position for a slot in any number of postseason tournaments. Check back at LetsGoPeay.com for more details as they develop.