Written by Curtis Johnson
Tennessee State Representative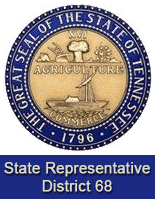 Nashville, TN – The House Finance, Ways and Means Committee will next week consider legislation to permit retail food stores to sell wine and retail package stores to sell alcoholic beverages seven days a week.
House Bill 1540 would put retailers on par with restaurants, hotels, convention centers, tourist resorts and other businesses in Tennessee which are already allowed to sell wine and spirits any day of the week under state law.
Presently, retailers can sell beer seven days a week in Tennessee, while the sale of wine and distilled spirits is limited to Monday through Saturday and is not allowed on certain holidays.
The legislation would allow retail businesses to sell from 8:00am-11:00pm Monday through Saturday and from 10:00am-11:00pm on Sunday, including holidays.
Retail package stores would be allowed to choose whether or not to be open seven days a week upon the bill becoming law, while it would become effective for retail food stores on January 1st, 2019.
Forty states allow for seven-day sales by retailers, including five which border Tennessee.
House Health Committee Approves Welfare Reform Legislation
The State House of Representatives approved a wide variety of issues this week as committees worked at full steam. This includes passage of a major bill in the House Health Committee strengthening the integrity of Tennessee's temporary assistance programs for needy families by reducing fraud and abuse, incentivizing work, and encouraging self-sufficiency. House Bill 1822 is one of Governor Bill Haslam's legislative priorities.
The proposal seeks approval for Tennessee to join a multi-state cooperative to identify dual recipient participation in the state's programs. It also strengthens investigations of multiple Electronic Benefit Transfer (EBT) card replacements, as well as providing other tools which will help the state investigate fraud and abuse. EBT is a system for delivering Supplemental Nutrition Assistance Program (SNAP), formerly known as food stamps, and Families First benefits to eligible Tennesseans.
In addition, the welfare reform legislation encourages family stabilization by linking the Temporary Assistance for Needy Families (TANF) maximum benefit to the current standard of need in Tennessee. The state has the second lowest TANF allotment in the U.S. The boost in monthly payments for those enrolled in the program would be the first in 21 years.
Finally, the bill reduces the fiscal cliff for families meeting the TANF or Families First work requirements by providing a work incentive transitional benefit.
The legislation follows action by Governor Bill Haslam in September to reestablish work requirements for able-bodied adults without dependents (ABAWD) receiving SNAP benefits in 70 counties beginning February 1. The waiver, which was put into place during the 2008 recession, only remains in 16 counties designated as distressed.
House Scheduled to Vote on a Moratorium on Additional Statewide Testing
The full House is scheduled to vote next week on legislation to put a two-year moratorium on any additional statewide testing in Tennessee's K-12 schools. This legislation prevents any additional assessments from being implemented until the current system is operating correctly. Further, House Bill 1855 ensures stability in the state tests because nothing new will be added.
Contact Information
Rep. Curtis Johnson
606 Cordell Hull Building
Nashville, TN 37243
615.741.4341
For more information about the Tennessee General Assembly, check our website at: www.capitol.tn.gov