APSU Sports Information

Birmingham, AL – Austin Peay State University men's tennis team missed another opportunity to claim its first Ohio Valley Conference win, falling 6-1 to Jacksonville State, Saturday, at the JSU Tennis Courts.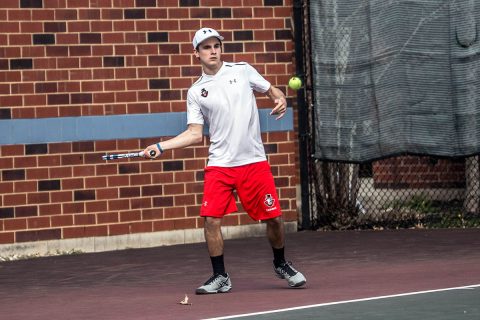 The Govs (1-15, 0-4 OVC) won the first match of the day, with Almantas Ozelis and Aleh Drobysh defeating Andres Gomez and Guillermo Agost at No. 1 doubles (6-2).
However, the Gamecocks (12-2, 2-0 OVC) won at No. 2 and No. 3 doubles to claim the doubles point.
Ozelis was the only Gov to win in singles, defeating Aljaz Kaplja at No. 1 singles, 6-3, 7-6(3). The Gamecocks had already clinched the match prior to Ozelis's win.
The Govs return home to face Saint Louis, 2:30pm, Tuesday.
Box Score
Jacksonville State 6, Austin Peay 1
Doubles
1. Almantas Ozelis/Aleh Drobysh (APSU) def. Andres Gomez/Guillermo Agost (JSU) 6-2
2. Aljaz Kaplja/Paolo Cuculon (JSU) Christian Edison/Evan Bottorff (APSU) 6-4
3. Pablo Caffarena/Sergio Lizarraga (JSU) def. Timo Kiesslich/Chad Woodham 6-3
Singles
1. Almantas Ozelis (APSU) def. Aljaz Kaplja (JSU) 6-3, 7-6 (3)
2. Pablo Caffarena (JSU) def. Christian Edison (APSU) 6-2, 6-4
3. Joaquin Vallejo (JSU) def. Aleh Drobysh (APSU) 6-3, 6-4
4. Guillermo Agost (JSU) def. Timo Kiesslich (APSU) 6-1, 6-3
5. Paolo Cuculon (JSU) def. Jacob Lorino (APSU) 6-1, 6-0
6. Sergio Lizarraga (JSU) def. Chad Woodham (APSU) 6-3, 6-1
Order of finish: Doubles (1, 2, 3); Singles (4, 3, 2, 1, 5, 6)