APSU Baseball
Clemson, SC – A toe-to-toe battle saw Austin Peay State University's baseball team match Clemson and force extra innings before falling in walk-off fashion, 3-2, in Sunday action at Doug Kingsmore Stadium.
Another pitcher's duel unfolded between Governors starter Brandon Vial and Clemson starter Jake Higginbotham each opened with five scoreless innings.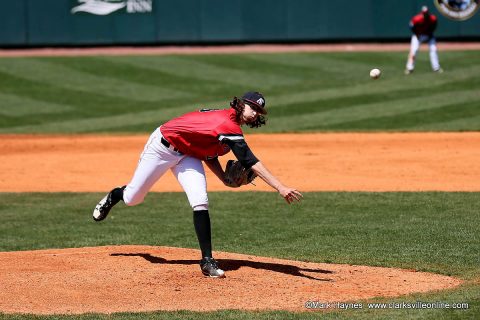 Austin Peay (30-22) broke up the scoreless game in the sixth inning, using three consecutive walks to push in a pair of runs in the top of the sixth. Clemson returned the favor in its half of the sixth, using a bases-loaded walk followed by a sac fly to tie the game, 2-2.
Both teams would bend but not break over the next four and a half innings. Clemson would have an opportunity with a runner on third base in both the ninth and 10th frames.
However, the Govs would cut a man down at the plate in the ninth and used a double play in the 10th to bring the threats to a close.
Austin Peay would have its chances in the 10th and 11th innings, getting a runner to second base in each inning. The 10th saw the opportunity arise with two out and a sharp ground ball could not get through the infield, ending the chance. One inning later, the scorinig opportunity arose with one out, but Clemson got a ground out and strike out to hold the score.
Clemson (39-13) broke the tie with third baseman Grayson Byrd's leadoff home run. It is the first walk off home run allowed by the Governors this season.
Vial would last five-plus innings and allowed one run on three hits and two walks. Ross Walker would supply 1.2 innings of relief in the eighth and ninth innings, retiring five of the six batters he faced. Harley Gollery (3-3) suffered the loss after allowing one run on two hits in two-plus innings of work.
Clemson's Travis Marr (6-1) picked up the win after tossing a scoreless 11th inning. Tigers starter Jake Higginbotham went 5.2 innings, allowing two runs on four hits.
Byrd had Clemson's lone multi-hit outing, finishing the day 2-for-4 with two RBI, including a sacrifice fly in the sixth.
Right fielder Nick Walker had Austin Peay's only multi-hit day, finishing 2-for-4 with a walk and a run scored. Designated hitter Brett Newberg and shortstop Bobby Head each had bases-loaded walks for the Govs only RBI.
Govs Notably
Phillips Plunkings
First baseman Parker Phillips was hit by a pitch twice during Sunday's series finale – his 35th and 36th career times hit by pitch. He tied the Governors career record for HBPs, set by Matt Ledbetter (2002-06).
Starters Weekend
The Governors weekend rotation of Mike Costanzo, Jacques Pucheu and Brandon Vial made quite the statement in ACC country. They combined for a 3.63 ERA, allowed just 14 hits in 17.1 innings (.222 opponent's batting average) and struck out 17 hitters.
Up Next for APSU Baseball

Austin Peay now returns home to close out its regular-season schedule with a three-game Ohio Valley Conference series against Eastern Illinois. The Governors will enter the weekend looking to claim the No. 2 seed in the upcoming OVC Baseball Championship.
Meanwhile, Eastern Illinois will be fighting to gain a spot in the eight-team field, entering the weekend in a battle with Belmont for the No. 8 seed.