Austin Peay Sports Information

Tampa, FL – Who knows what might've been for Tymeitha Tolbert had the heats been drawn differently for the 2018 NCAA East Preliminary.
A vital component of short sprints, where tenths of seconds are the difference between moving on and going home, is pairing.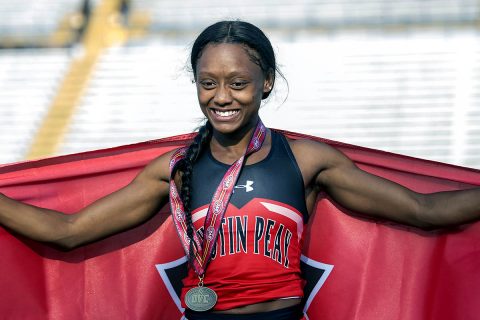 In Heat Five of the 100m dash, which Tolbert found herself in, heat winner Tamara Clark of Alabama finished with an 11.32 mark, 17th overall—no other heat victor finished lower than seventh overall, or with a time lower than 11.16.
And while only the three automatic qualifiers from Heat Five advanced to the next round, as many as five runners from other heats kept a pace good enough to advance.
As it was Tolbert, trapped in the slowest heat, saw her time in Tampa come to an end, as she finished 45th in the first round of the 100m dash with an 11.73 mark.
Still, the experience for the Louisville native can't be overstated—as a sophomore, she was an NCAA Regional participant, which will provide vital knowledge in her final two seasons at Austin Peay.
"It wasn't her best technical race," said head coach Doug Molnar. "She came on at the end but just ran out of track, and that's the nature of the 100—if you don't have a good start, you're behind the eight-ball.
"I think she learned a lot, which is the great thing about being here as a sophomore. After you're here a time or two, it becomes old hat. She's hungry and she's already planning for next year. She can't wait to get back here."
While Tolbert's season is at an end, one more Governor still has a shot at advancing to Eugene, Oregon. Junior Savannah Amato will compete in Friday's pole vault, scheduled for an 8:30am (CT) start at USF Track & Field Stadium.