Written by Maria Yager
Blanchfield Army Community Hospital Public Affairs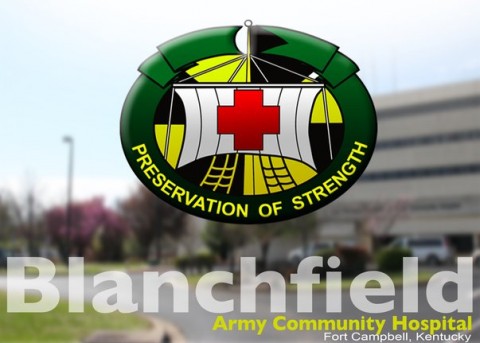 Fort Campbell, KY – It was puppy love when volunteers from Blanchfield Army Community Hospital brought a therapy dog to visit students at Clarksville, Tennessee's Northeast Middle School recently.
Samson, an English Labrador Retriever, and his handler, Blanchfield pathology technician and Army retiree, Angela Barnett, volunteer through a local organization dedicated to providing animal assisted therapy and animal assisted activity. They typically visit nursing homes, senior centers, hospices, schools, camps, and assisted living centers to provide comfort and smiles.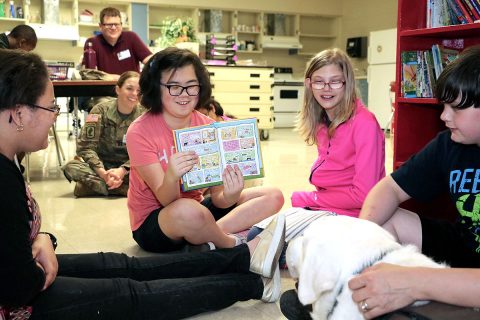 After learning of Blanchfield's Partnership in Education with Northeast, Barnett volunteered her services and brought Samson to visit with students at the school during one of the hospital volunteers' scheduled visits.
"They LOVED the therapy dog," said Northeast teacher Jennifer Parrish.
After making Samson's acquaintance, students took turns reading stories to Samson because he is a patient listener.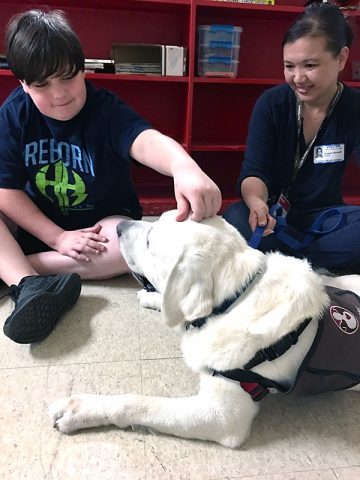 Other hospital volunteers joined in and listened as other students practiced their reading skills and talked about their stories. Parrish said Samson helped the students become more excited about reading.
"They want to know if he will come back next year and if we can buy books about dogs that he would like to listen to," said Parrish.
Barnett said that the students had many questions about Samson, including what the difference is between a service dog and a therapy dog.
"There is a distinct difference between therapy and service dogs. Service dogs provide a service to their handler. For example, the handler may have lost their eye sight and they have a service dog to help guide them. Or they may have a medical condition that a service dog can alert the person that changes are occurring to them internally. Such as blood sugar levels in diabetes," explained Barnett.
"On the other hand, therapy dogs are part of a registered team with their handlers that go to hospitals, schools, nursing homes, or veterans homes to bring smiles, comfort and joy to those in need," said Barnett. A therapy dog has a dedicated handler who brings the animal to provide comfort to individuals. "Samson and I love coming to the schools for reading time because it brings out even the most quiet and withdrawn children out to read with us."
In fact, during the visit as a student told Samson a tale of Captain Underpants, Barnett said one of the teachers told to her, "This is amazing. She hates reading. This is what keeps us coming back to the schools," said Barnett.
Therapy animals, formally known as animal assisted therapy, have been used in military settings for years. The first record of animal facilitated therapy in the United States was in the 1940's at Pawling Air Force Convalescent Center in Pawling, New York, according to a Department of Defense publication, Human-Animal Bond Principles and Guidelines.
The center's farm and nearby forest provided numerous animals for the veterans to interact with during their recovery, leading to a planned therapy program with dogs by 1942.
Today, Fort Campbell Warrior Transition Battalion uses an equine program to help in the recovery of some of its wounded, ill and injured Soldiers.
"We work with some community organizations who offer a horsemanship program to our Soldiers. The Soldiers are able to work on balance, hand/eye coordination and communication skills," said Wade Binion, Chief of Occupational Therapy for the WTB. "It is amazing how much working with an animal can help a person to feel better physically and mentally."
Barnett said she and Samson enjoyed visiting the students and helping inspire their desire to read. "I hope to continue with Partners in Education the next school year," said Barnett.
Partners in Education in an initiative where local organizations support schools in the community. Blanchfield staff has supported Northeast Middle School for more than four years.