Written by Justin Grant
Free Community Event Celebrates 10 Years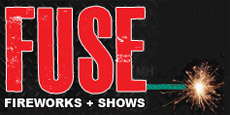 Clarksville, TN – 2018 marks a decade for June Boom in Clarksville, TN. Fuse Fireworks is excited to feature all the brand new fireworks for the July 4th season on Saturday, June 16th at Governor's Square Mall.
This event was created 10 years ago from an idea between Justin Grant and Frank Caldwell, who both wanted to find a way to give back to Clarksville and Fort Campbell residents.
The fireworks at June Boom are different from most shows. The show will begin by featuring all the new fireworks available at Fuse Fireworks.
The "shoot list" provides the name of each firework being fired. The items on the "shoot list" will be fired individually to give spectators the opportunity to see the performance of each item.
After all featured items have been fired; a grand finale show concludes the event. The fireworks will begin at 9:00pm. The Fuse Fireworks "shoot list" can be found in the Summer Edition of the Saveamint Guide of Montgomery County.
The crowd has grown each and every year for the event, with people being able to watch the show in different areas. Fuse Fireworks recommends arriving around 8:00pm to secure a viewing spot for the fireworks. Pony Pals, Gamez on Wheelz and various food options will be available prior to the fireworks, as well as food options inside the mall.
This year, spectators will be able to tune into 105.1 FM The Wolf to listen to music during the fireworks.
If you plan to attend June Boom, just grab some lawn chairs or blankets and enjoy the show from multiple locations around Governor's Square Mall.
More details can be found at www.juneboom.com