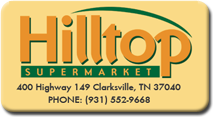 Clarksville, TN – Hilltop Supermarket put on a spectacular Car and Fireworks show for the community Friday night, June 29th, 2018. Hundreds of people came out to see one fantastic fireworks display.
The evening began with a car show setup beside the store. The car show consisted of vehicles, both classic and newer. There was even a drag racing funny car on display.
Flame grilled hamburgers and hotdogs available for purchase from Hilltop Supermarket. The burgers were especially good. They must have been, since there was a line at the concession stand even during the fireworks.
The fireworks started at 9:00pm. Everyone was treated a 15 minute non stop professional fireworks show.
"The fireworks were really nice. I think it's great Hilltop puts on an event like this for the community," stated Cindy Malanowski. "We are new to the area and this is our first event. Overall, it was really great."
After it was over, a loud cheer went up from the crowd. Everyone was talking about the great show they had just seen.
"I think tonight went excellent. A lot of people showed up and had a good time. This was our first year, so it was a learning experience. Next year it will be even bigger," stated Hilltop Supermarket manager, Cody Jackson. "We got a big cheer at the end and that was awesome."
A large donation to help with the fireworks was made by Joey Rouse and Bridget Rouse with Satellite Electronics and Joey's Fireworks.
"Joey Rouse and Bridget Rouse donated a lot to this event. We could not be more thankful to them," said Jackson.
"We do this to give back to the community that does so much for us. Our customers are loyal to us and that is why we have been here for over 50 years. It gives you goose bumps to see so many people show up to the event," Jackson stated.
Photo Gallery
About Hilltop Supermarket
Hilltop Supermarket is Clarksville's only Family Owned and Operated Grocery Store. The store is located at 400 Highway 149, Clarksville, TN. From Clarksville, you would take Hwy 48/13 south across the Cumberland river, turn right on Highway 149 and Hilltop is located on the left at the top of the hill next to Freds. Hilltop Supermarket has been serving the grocery needs of the southern Montgomery county area since 1967.
Visit their website at: www.hilltopsupermarket.com.