APSU Sports Information
Murfreesboro, TN – Sophomore Brooke Moore posted a match-high 13 kills, leading Austin Peay State University (APSU)'s volleyball team to a three-set sweep (25-22, 25-15, 25-18) of host Middle Tennessee in the opening match of the Blue Raider Bash, Friday night, at Alumni Memorial Gym.
Austin Peay (4-0) rallied from early deficits in all three sets of the match.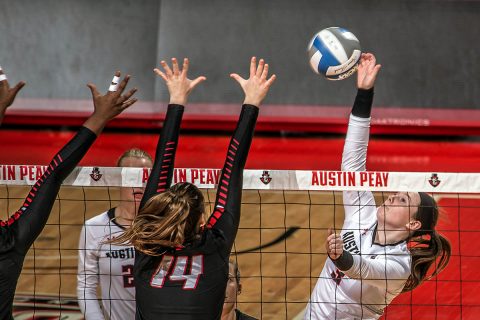 The Governors trailed 12-7 in the opening set before using a 9-3 run to storm from behind to win 25-22. The second set turned earlier, Austin Peay turning a 4-2 disadvantage into a 15-6 lead before cruising to the 25-15 win.
Middle Tennessee (1-3) built a 6-2 lead early in the third set, but Austin Peay scored 11 of the next 15 points to take a 13-10 lead that proved to be the match-winning burst as they went on to win 25-18.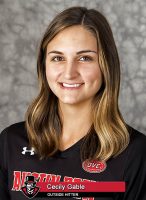 Moore finished with 13 kills, her best performance of the season, and added seven digs and two blocks. Senior Cecily Gable added 10 kills and seven digs in the winning effort.
Junior Logan Carger (8 kills, 15 attempts) and senior Kaylee Taff (7 kills, 13 attempts) each had errorless outings in attack, Taff also adding five blocks.
Bailey Mason led Middle Tennessee with nine kills, as no Blue Raiders hitter found double-digits in kills.
Austin Peay returns to action at the Blue Raider Bash with a 10:00am, Saturday contest against Stetson. The Hatters suffered their first defeat of 2018 with a five-set loss during the tournament's opening match against Troy, Friday.
Set-By-Set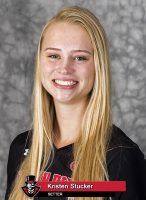 SET 1, Govs Win 25-22
Middle Tennessee got out to a quick start, building a 12-7 lead in the opening set after a Governors miscue. Austin Peay would not allow the lead to grow larger, matching each Blue Raider run.
The Governors would begin to reel the set back into their control with senior setter Kristen Stucker serving, winning five consecutive points to take a 20-19 lead.
Another three-point run nudged the Governors closer to the win before Jenna Panning's kill gave APSU its first set-point opportunity. MT would deny the first chance, but Panning and Kaylee Taff combined on a block to clinch the set.
SET 2, Govs Win 25-15
Austin Peay would not face nearly the deficit of the first set, trailing by just 4-2 in the second after MTSU's Vonnie Covington's kill.
The Governors would score 13 of the next 15 points to take a 15-6 lead on an MTSU attack error and would not look back. A later 5-0 run would contribute to the dominating 25-15 win.
SET 3, Govs Win 25-18
Middle Tennessee would work to extend the match beyond three sets by racing out to a 6-2 lead in the third. But the Governors again would piece together a long 11-4 run to take control at 13-10 after a Brooke Moore block. Austin Peay would slowly extend its advantage and won the match after a MTSU error was followed by a Logan Carger kill to end the set.
APSU Govs, Notably
Efficient Night
Austin Peay set a season high with a .318 team attack percentage against the Blue Raiders. The Governors set a season low with 11 attack errors and needed just 45 kills to complete the three-set sweep of host Middle Tennessee.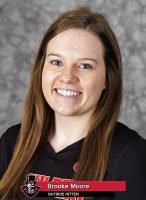 Moore-Over
Sophomore Brooke Moore followed her season-high 14 kills in a five-set win at UMKC, Saturday, with a 13-kill performance in three sets at Middle Tennessee, Friday.
She also set a season-high with a .312 attack percentage against the Blue Raiders. That attack percentage was the best by a Governors player this season with a minimum of 12 kills in a match.
Taff For The Block
Senior Kaylee Taff's five blocks at Middle Tennessee were the most by a Govs player in three sets this season and one shy of the overall season high. She finished the night with 206 career blocks.