APSU Sports Information

Morehead, KY – If you're an opponent, you're going to want to contain the APSU Governors.
Because outright stopping them seems like a dubious proposition at best.
Kentel Williams scored four touchdowns in his first game of 2018, leading Austin Peay State University's football team to a 78-40 nonconference victory against Morehead State, Saturday, at Jayne Stadium.
Austin Peay (2-1) set school records for points scored, touchdowns scored (11) and total yardage (758) in the victory. In addition, Williams and quarterback Jeremiah Oatsvall became the first Governors rushing tandem to both run for 100 yards in the same game since 2013.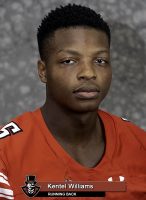 The Governors broke open a back-and-forth game over the final 17 minutes, scoring the game's final 28 points. Oatsvall ended the third quarter with a 39-yard touchdown run, giving Austin Peay a 57-40 lead. Williams then broke off a 72-yard rushing touchdown – his fourth score of the game – for the only play in a fourth-quarter drive that extended the lead to 64-40.
Austin Peay would tack on two more touchdowns late in the fourth quarter. Tre Nation joined the scoring party with a one-yard touchdown dash, giving the Govs 71 points. Prince Momodu then broke off a 66-yard touchdown burst, giving the Governors a record-breaking 78 points.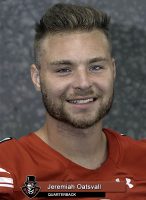 Morehead State (1-2) matched the Governors score for score throughout the first half. After Austin Peay struck for the game's first touchdown, the Eagles responded immediately with a 92-yard kickoff return for a touchdown.
That set the tone for the rest of the half with an Austin Peay score matched by a Morehead State score, Austin Peay holding a 43-26 lead at the half.
The Governors closed the first half with Williams' nine-yard touchdown reception then opened the second half with Jay Parker's 19-yard run for the game's first back-to-back touchdowns by either team. Morehead State scored the next two touchdowns before Austin Peay closed with its four straight touchdowns.
Williams' four-touchdown outing was the first by a Governors player since JaVaughn Craig's four-touchdown performance against Morehead State last season. The Govs touchdown binge also saw kicker Logan Birchfield kick a program-record 10 PATs.
Against a Morehead State program that entered the weekend allowing opponents to rack up more than 250 yards per game on the ground, Austin Peay's run game rolled up 518 yards on 39 carries—a whopping 13.3 yards per rush. That total is the third-highest mark in program history, and the first time the Govs have rushed for more than 500 yards in a game since 1996.
On the other side of the ball, senior Malik Davis led the Govs with a season-high 11 tackles. Consensus preseason All-American Jaison Williams posted a career-high 3.5 tackles for loss, including a second-quarter sack to open a Morehead State drive deep in Austin Peay territory following a Governors turnover.
Austin Peay continues its three-game road trip next Saturday when it opens Ohio Valley Conference play at UT Martin.