APSU Sports information

Clarksville, TN – Claire Larose scored in the first half to lift Austin Peay State University's soccer team to its first conference win over Tennessee Tech, 1-0, Sunday, at Morgan Brothers Soccer Field.
The Govs (6-2-1, 1-0-1 OVC) started out on the front foot, with Amber Bateman having a shot saved in the 9th minute.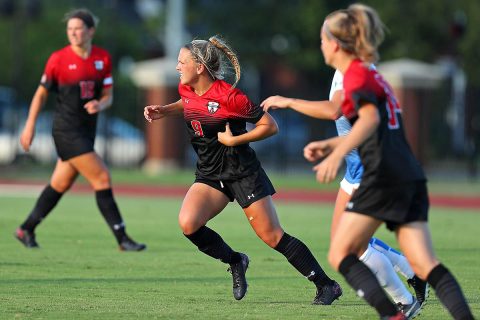 The Golden Eagles (5-4, 1-1 OVC) did not muster much offensively in the first half, with only one shot total in the half.
The Govs' pressure paid off in the 18th minute when Jade Dauriat slid a perfect ball through to Larose, who shot the ball on the ground to the right corner for a deserved lead. No other notable scoring chances occurred in the first half besides Jennifer Smith's acrobatic volley off a corner going wide.
The second half started off with the Golden Eagles going forward more. Mary Parker Powell made an amazing save to tip a shot onto the crossbar in the 59th minute. Brice Bement made an immediate impact off the bench again, having a shot that went wide. Bateman had another shot that was blocked, but the Golden Eagles had no real clear cut scoring chances.
The Govs resume play next Friday, at SIU Edwardsville.
APSU Notably
The Govs are now 5-10-1 against Tennessee Tech
The Govs beat the Golden Eagles for the first time since 2013
Larose extends her team lead in goals with five on the season
The Govs are on a 14-match unbeaten streak at home in conference play
The Govs are on a 21-match unbeaten streak at home overall
Powell is now tied for fourth all-time with 15 career victories
Larose is now all on the all-time list for goals scored, as she now has eight in her career
The Govs earned their first conference win under head coach Naomi Kolarova
Naomi Kolarova's Thoughts
On the match
"We wanted to mark tightly again, preventing them from possession and playing it around us and I think we did a good job of that. We frustrated them in the middle of the park too. I said to them today, 'This is going to be a very technical team, they're going to play the ball well, and if we disrupt that then we will have success.' We created a lot more goal scoring opportunities than they did and Claire had a nice goal, but we could have had more today."
On the win
"The goal at this point is to still get better. This is just game two in the OVC and it has to be better. We will work again this week and see if we can improve on finishing our opportunities. But overall I am pumped, and it was Senior Day as well, so it was a good day to walk away with a win."