APSU Sports Information
Martin, TN – Senior Cecily Gable posted 18 kills, including an impressive stretch of five straight kills in the decisive fourth set, as Austin Peay State University's (APSU) volleyball team posted a four-set (25-23, 19-25, 25-18, 25-20) Ohio Valley Conference win against UT Martin, Saturday, at Skyhawk Fieldhouse.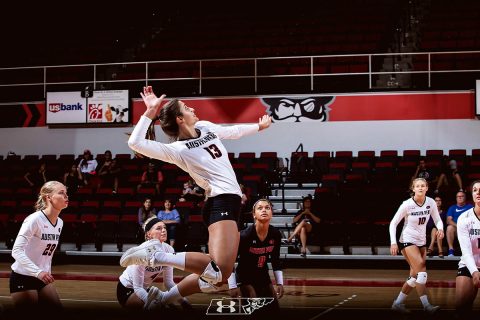 After splitting the first two sets, Austin Peay (12-2, 2-0 OVC) won the third set in wire-to-wire fashion as Gable and sophomore
Brooke Moore
each supplied four kills.
The Governors held a slim advantage midway through the fourth set but Gable would personally break the set open with a stretch of five consecutive kills, giving APSU a 19-13 lead.
UT Martin (7-8, 1-1 OVC) would recover from a disappointing first set loss, jumping out to a 6-0 lead in the second set. The Skyhawks held the Govs offense to an .083 attack percentage in the set while claiming their first set victory against the Govs since 2015.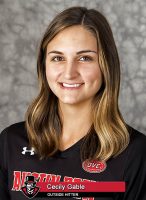 Gable's 18-kill outing was one shy of her career high set at UMKC earlier this season. Moore and Kaylee Taff each had 13 kills in the win. Senior Kristen Stucker posted 46 assists and added six kills and 12 digs.
Karen Scanlon and Hannah Phillips each had 12 kills to lead the UT Martin offense.
Austin Peay returns home to begin a four-match homestand with a 6:00pm, Tuesday contest against Murray State in the first contest of the 2018-19 Heritage Bank Battle of the Border.
Set-By-Set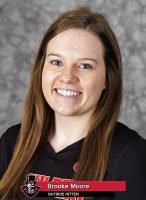 SET 1, Govs Win 25-23
The Govs gained early control thanks to a 4-0 run on Brooke Moore's serve, which also included an ace from the sophomore. Austin Peay widened its advantage later with a 9-2 run to take an 18-9 lead, Kristen Stucker scoring twice (kill and ace) to help the run.
UT Martin would work its way back into the contest with an 11-3 run to get a point away from a tie at 21-20. But Stucker came up with a big kill and the Govs sided out the rest of the way for the win.
SET 2, Skyhawks Win Win 25-19
UT Martin opened the second set with a 4-0 run that turned into a 7-1 lead after a block. Austin Peay methodically worked its way back into the frame, ultimately tying the set at 14 on a block by Stucker and Carger.
The Govs would hold the lead briefly at 16-15 but the Skyhawks quickly tied the set again.
UTM took the lead for good with three straight points to build a 20-17 lead and didn't look back as it leveled the match.
SET 3, Govs Win 25-18
Austin Peay won the third set wire-to-wire but wasn't able to build a comfortable lead until midway through the set.
After opening with a 5-2 lead the Govs nursed that advantage to the set's midway point.
The Govs finally extended the lead to five points, 15-10, with three straight points which included a pair of UTM attack errors.
The lead hit six points late when Ginny Gerig served up a pair of aces that helped secure the lead and the win.
SET 4, Govs Win 25-20
The fourth proved to be the most competitive of the match with nine ties and three lead changes.
It took a 4-1 Austin Peay run to finally provide breathing room at 13-11.
Another 6-0 run was sparked by Cecily Gable, who provided five consecutive kills as the lead reached 19-13 and the Govs never looked back.
APSU Govs, Notably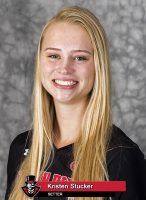 Stucker Seven Away
Stucker sits just seven assists away from her 4,000th career assists – a mark reached by only three Governors setters previously. She remains fourth on the Govs career assists list with 3,993 assists.
Those 2-0 Starts
Austin Peay starts 2-0 in Ohio Valley Conference play for a third consecutive season.
Still Streaking
Austin Peay won its sixth straight contest against UT Martin. It also was the Govs third straight win at Skyhawk Fieldhouse.