APSU Sports Information
Clarksville, TN – Austin Peay State University (APSU) head softball coach Kassie Stanfill has announced the addition of three former highly-successful collegiate softball standouts to complete her inaugural coaching staff.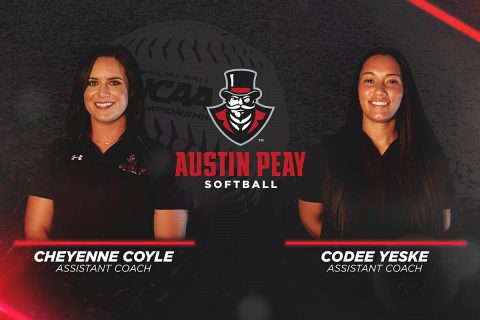 Joining Stanfill will be Cheyenne Coyle (pronounced Coil) and Codee Yeske (pronounced Yes-key) as assistant coaches, while Brianna Hesson joins the staff as a volunteer assistant.

While all three will be involved in all aspects of team's play and preparation, Coyle will handle outfielders, Yeske infielders and Hesson team hitting.

"I am beyond thrilled to have my staff complete," Stanfill said. "I welcome Cheyenne, Codee and Brianna to the Austin Peay family.

"They all come from established programs that have provided them with great knowledge of the game and passion to continue the growth in our sport. I am excited to see the impact they will have on our student-athletes on and off the field."

Coyle got her coaching start as a graduate assistant at Auburn from 2015-17.

The Tigers posted a 107-24 overall record with a Women's College World Series runner-up finish in 2016 and a NCAA Super-Regional appearance in 2017.

Before her time at Auburn, Coyle played professional softball in the National Pro Fastpitch League after being drafted 13th overall in the NPF Draft in 2014 by the Chicago Bandits.

Collegiately, she played her freshman and sophomore seasons at the University of Florida and competed for a national title at the 2011 Women's College World Series as a freshman, earning a spot on the Women's College World Series All-Tournament Team. In her sophomore season, she was selected to the SEC All-Tournament Team.

In the fall of 2011, Coyle was selected to play for the USA Softball Women's Junior National Team, winning the Junior World Championship in Cape Town, South Africa.

After two seasons at Florida, she transferred to Arizona State University earning National Fastpitch Coaches Association All-Region honors, as well as Pac-12 All-Conference honorable mention selection her senior season, while graduating with a degree in Health Sciences in 2014.

Yeske comes to Austin Peay after serving on the coaching staff of Kristy Norton at the University of North Carolina-Wilmington, following a year as associate head coach for the Carolina Mojo 14U club team.

Prior to that, Yeske spent eight months as associate head coach for the Carolina Elite 14U club squad and worked with the team's outfielders and hitters.

Yeske also competed on the USA Baseball Women's National Team as part of the 36-member Trial Team in 2015 and 2016. She earned a gold medal at the Pan-American Qualifying Games in Santo Domingo, Dominican Republic.

Collegiately, she played her sophomore through senior seasons at the University of South Carolina, after beginning her college career at Presbyterian.

In her three seasons with the Gamecocks, the team posted an overall record of 93-79, which included back-to-back appearances in the NCAA Regionals (Austin Regional, 2013), (Tallahassee Regional, 2014).

At Presbyterian in 2011, she helped lead the Blue Hose to a 28-20-1 overall record, while earning First-Team All-Big South Conference honors.

Hesson joins the Austin Peay coaching staff after serving a season as a volunteer coach at Louisville in 2018, following a season as an assistant coach at IUPUI in 2017.

Prior to her stint at IUPUI, Hesson served as a graduate assistant at Auburn, serving as an on-field assistant and aiding with the team's operations.

Collegiately, she was a four-year starter at Georgia. She also played softball professionally with the Akron Racers in the National Professional Fastpitch League from May 2011 until February 2014.

Hesson has also served as a private instructor at the Rome's Diamond Academy in Rome, Georgia, and spent several years as a manager and instructor at the Next Level Baseball and Softball Academy in Buford, Georgia.