Roxy Regional Theatre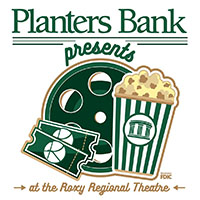 Clarksville, TN – The electrifying dog is back from beyond the grave! Join The Roxy Regional Theatre at the corner of Franklin Street and First Street in Historic Downtown Clarksville for Tim Burton's family-friendly Halloween favorite when Planters Bank Presents… Disney's "Frankenweenie" on our big screen this Sunday, October 21st, 2018 at 2:00pm.
Young Victor Frankenstein (Charlie Tahan) is a science nerd and outsider at school, but he does have one good friend: his dog, Sparky. But then tragedy strikes, and Sparky shuffles off this mortal coil.
Victor is heartbroken, but his science teacher (Martin Landau) gives him an idea of how to jolt old Sparky back to life.
The experiment is successful, and all goes well, until Victor's fellow students steal his secret and use it to resurrect other dead animals — with monstrous consequences.
Rating: PG / Running time: 90 minutes / Release year: 2012 / Director: Tim Burton / Cast: Charlie Tahan, Winona Ryder, Martin Landau, Catherine O'Hara, Martin Short.
Admission is $5.00 (cash or check only), and tickets are available at the box office between 9:00am and 2:00pm, Monday through Friday. Any remaining tickets will be available beginning an hour prior to showtime. Advance ticket purchases are strongly encouraged. Popcorn, assorted candy and bottled water will be available as concessions.
While you are here on Sunday, be sure to pick up your tickets for the next installment in our Planters Bank Presents… Film Series, the Halloween favorite "Hotel Transylvania", showing Sunday, October 28th at 2:00pm.
In the coming weeks, you can also look for other such favorites as "Pretty Woman", "Babes In Toyland", "The Polar Express", Disney's "A Christmas Carol" and "It's A Wonderful Life".
For our complete schedule of films and more information, please visit www.roxyregionaltheatre.org/filmseries
Like us on Facebook at www.facebook.com/PlantersBankPresents