Clarksville Police Department

Clarksville, TN – On Saturday, October 20th, 2018, 30 young adults, between 15 and 19 years old, signed on the dotted line to attend Clarksville Police Department's free Student Traffic Awareness Training (S.T.A.T) class.
They had an opportunity to learn about speed awareness, occupant protection, underage alcohol prevention awareness, pedestrian and bicycle safety, rules of the road, traffic signs and signals, traffic laws, driving under the influence, and distracted driving.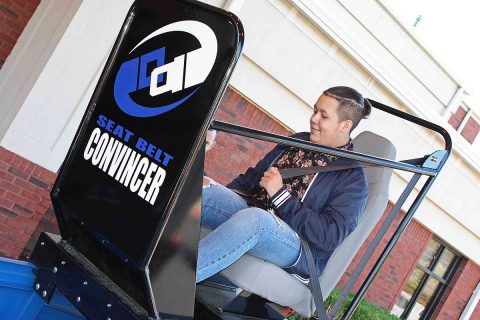 The class was free, but the lessons were invaluable.
The young drivers were able to experience the effects of alcohol without consuming a drop, drive a golf cart while texting or distracted, and performing field sobriety tests while wearing DUI goggles.
They had a lot of fun while learning about a wide variety of topics associated with operating a motor vehicle.
Clarksville Police appreciates the support from our local community and wanted to thank Grace Church of Nazarene, Citizens Police Academy, Wyatt Johnson, Tennessee Trucker Association and guest speaker John Atkins for their assistance and helping to make this event possible.
The Clarksville Police Department is in the process of setting up classes for 2019 and will put something out when the dates are set.
Photos