Austin Peay State University Sports Information
Clarksville, TN – The Austin Peay State University (APSU) volleyball team could not get its offense on track and dropped a three-set decision (25-15, 25-20, 25-22) to Murray State, Saturday, in the Ohio Valley Conference Championship Match at the Winfield Dunn Center.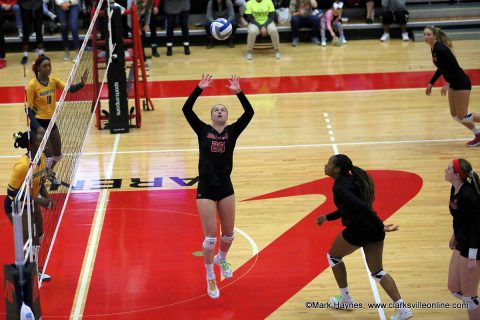 Austin Peay State University (27-5) looked to bounce back from a 2-0 deficit in the third and had the lead at 13-11.
But a well-timed Murray State timeout stopped the Governors momentum and it rallied to tie the set with the next two points.
The Racers would use a 4-0 run to take the lead at 18-15 only to watch the Govs respond with the next three points to force an 18-18, but APSU would never regain the lead and forced the final tie at 20-20.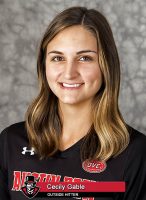 Murray State (22-9) controlled the action in the first two sets, winning each in near wire-to-wire fashion. Austin Peay began the match with a service ace but Murray State responded with seven of the next nine points to take a 7-3 lead and would not be challenged the rest of the set.
The Racers broke out to a 20-8 lead in the second, but Austin Peay responded with an 11-4 run that saw it fend off six set point chances before falling.
Senior Cecily Gable paced the Governors offense with nine kills while junior Jenna Panning added an eight-kill outing. Austin Peay recorded 10 blocks in the match, senior Logan Carger leading that effort with four blocks.
Junior Rachel Guistino posted a 14-kill effort to lead the Murray State offense, senior Dacia Brown chipping in 13 kills and junior Rachel Holthaus adding 10 kills. Murray State posted 52 kills and a .325 team attack percentage.
APSU Governors, Notably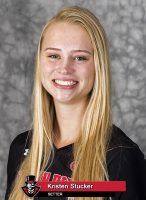 Gable, Stucker All- Tournament
Seniors Cecily Gable and Kristen Stucker were named to the OVC All-Tournament Team. Gable led Austin Peay with 32 kills (3.20 per set) and 33 digs (3.30 per set) in the championship. Stucker finished with 101 assists (10.10 per set), 26 digs (2.60 per set) and seven blocks. It is the third time Stucker has been named to the OVC All-Tournament Team.
Seniors Final Bow
Seniors Logan Carger and Kaylee Taff also had impressive efforts in the championship. Carger finished with 20 kills and eight blocks in the three championship matches. Taff led the Govs with 11 blocks and had 21 kills while also leading the team with a .356 attack percentage.
Photo Gallery