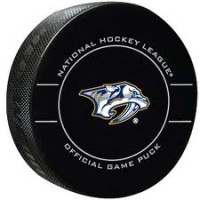 Dallas, Tx — The Nashville Predators came through in the clutch tonight against a very aggressive Dallas Star hockey team to win, 3-2.

Pekka Rinne was the difference maker for the Predators fighting off 40 of 42 shots by the Stars tonight who seemed relentless on goal. Combined with a stifling defensive core for Nashville, they held off the Stars to regain home-ice advantage.

Rocco Grimaldi lit the lamp for Nashville at 3:29 of the second period, skating the puck along the boards, then firing the wrister past goalie Ben Bishop for the early 1-0 lead.

Then Filip Forsberg gave Nashville a two goal cushion at 14:35 of the second period, taking a pass from Nick Bonino, then attacking the net and tucking the puck by Bishop and the Predators had a 2-0 lead.

Then with under three minutes remaining in the period, Mats Zuccarello took the puck to the net on Rinne, slipping it between the goalie's legs and Dallas cut the lead in half, 2-1.

When the third period began you could sense the momentum had swayed in the Stars favor as the crowd was back in the game. The period began with a Dallas power play as Austin Watson was flagged at the end of the second.

At 8:15 of the final frame, Tyler Seguin drove the net and buried a sick feed from Jamie Benn to tie the game, 2-2. The line of Seguin, Benn and Radulov spent a lot of time on the ice tonight for Dallas, trying to catch the Predators with tied legs, or in a line switch.

At 11:41 of the third, Mikael Granlund took the puck from the blue line and spins and fires a shot that deflected off Ben Bishops blocker and into the net, and suddenly the Predators had them a "dirty" goal and took the lead for the final time, 3-2.

Noticeable stats in tonight's game include how Dallas outshot the Predators 42-28. Rinne blocking all but two shots on the night, while Bishop blocked 25.

It's also notable that Dallas was flagged for only one penalty, while Nashville was sent to the box four times on the night. The Predators had to fight off a 5 on 3 power play to keep Dallas off the scoreboard.

These two teams lock horns again on Wednesday night. Puck drops at 7pm.

Nashville will return to the Bridgestone Arena on Saturday night for game five.



Sections
Sports
Topics
American Airlines Center, Austin Watson, Ben Bishop, Blocker, Dallas, Dallas Stars, Dallas Texas, Goalie, Mats Zuccarello, Mikael Granlund, Nashville, Nashville Predators, Nashville Tennessee, National Hockey League, NHL, Pekka Rinne, Power Play, Predators, Puck, Rocco Grimaldi, Roman Josi, Scoreboard, Stanley Cup, Stanley Cup Playoffs, Stars, Tennessee, Tyler Seguin