Clarksville, TN – Sara Alexander, an Austin Peay State University (APSU) graduate student recently received an award to attend one of the oldest and most highly ranked universities in Europe this summer.
Alexander, who is finishing up a master's in history and a master's in teaching, will attend Germany's Heidelberg University in August.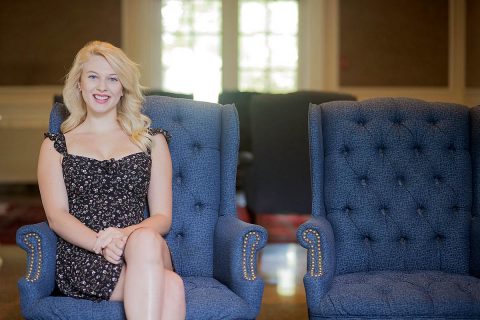 The opportunity comes through the German Academic Exchange Service (better known by the German acronym DAAD).
"I'm just so surprised and grateful," Alexander, who also has a bachelor's in history and minors in German and geology, said. "I love traveling. I got a scholarship to do what I love, which is learning and traveling."
Specifically, Alexander will attend the International Summer School of German Language and Culture to study "Germany: Myths, Realities, Perspectives." Classes will include exercises and seminars on current literary and social topics and lectures on German language, culture and civilization.
The school also provides social activities such as cultural workshops, concerts, sporting events, local excursions and weekend trips.
"It's an international course with students from all over," Alexander, who hopes to soon teach German in the United States, said. "I love getting to know students from other countries."
Competitive Award, Learning German
Dr. Cameron Sutt, chair of the Department of History & Philosophy, noted Heidelberg has produced more Nobel Prize winners than any other German university and is the top-ranked college in the country (47th in the world), according to the Academic Ranking of World Universities.
"The DAAD is very competitive, and we are quite proud of Sara," Sutt said.
Alexander thinks her motivation statement to the program helped her win the award.
"I would love to be a German teacher, so I just wrote about that and how I would love to spread my appreciation for German to other students because it opens up a culture of movies and music, things you can access," she said.
Alexander has been to Europe before: As an undergraduate at Austin Peay State University, she traveled to Austria during a study abroad exchange.
"In Austria it was just amazing," she said. "I had had only one year of German, but as soon as I went there, my speaking ability just skyrocketed."
She hopes to refine her German even more and return to take the German Praxis test.
"I've been a busy, poor student for so long, I'm eager to start a career in teaching."
To Learn More