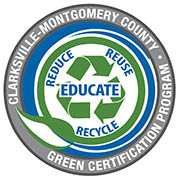 Montgomery County, TN – On Tuesday, May 28th, 2019, a green ribbon cutting was held to recognize Kroger as the latest Clarksville-Montgomery County Green Certified organization. The certification covered all three Kroger stores in Clarksville (Dover Crossing, Madison Street and Lowes Drive).
Those in attendance at the Green Ribbon Cutting were Montgomery County Mayor Jim Durrett, Montgomery County Chief of Staff Kyle Johnson, Program Manager Carlye Sommers and Program board members Daryl Pater, Haley Randell and Doug Jones.
Kroger was represented by Corporate Affairs Manager Melissa Eads; Expense, Sanitation & Sustainability Manager Sabrina Powell; District Manager Stephanie Jordan; Operations Manager Chris Reed; and Store Managers Kelly Ward, Jason Broadrick and Dennis Williams.
The three local Kroger locations are dedicated to sustainability and reducing waste in Montgomery County.
The Kroger Zero Hunger | Zero Waste initiative is a two-pronged approach to ensure food reaches those in need while also reducing waste entering our landfill. A staggering 40% of all food produced is thrown away, yet 1 in 8 Americans struggle with hunger.
Kroger works with local organizations throughout Tennessee to help end hunger through food and cash donations, as well as education. The Kroger stores in Clarksville donate edible food that has gone unsold to the food bank with extra emphasis on donating foods that fulfill a balanced, nutritious diet.
Food that is unable to be donated, including scraps and expired items, are provided as animal feed or compost material. The local stores also have extensive recycling programs that include cardboard, plastics and aluminum as well as reuse programs that ensure delivery totes are reusable rather than single use.
Finally, Kroger is leading the way to becoming plastic bag by pledging to eliminate single use plastic bags across the company by 2025.
Mayor Durrett thanked Kroger for the food donations that have gone to feed the hungry in Montgomery County. Additionally, he thanked Kroger for being a corporate sustainability leader with the goals they have set for waste reduction and for plastic bag elimination. He hopes to see more companies follow their lead.
To learn more about Zero Hunger | Zero Waste, visit www.thekrogerco.com or follow the journey at #ZeroHungerZeroWaste.
About Clarksville-Montgomery County Green Certification
The Clarksville-Montgomery County Green Certification Program promotes environmental stewardship within Montgomery County. The free Program is open to any organization with a physical location within the County and focuses on expanding recycling and improving resource efficiency.
If your organization is interested in learning more about the Program, contact Carlye Sommers at or call 931.245.1867.
You can also find information about the Program and the over 120 Green Certified businesses at https://mcgtn.org/green