Clarksville, TN – The Clarksville Police Department announces the graduation of Captain Ty Burdine from the prestigious School of Police Staff and Command (SPSC) at Northwestern University. He recently graduated the grueling 10 week program hosted in Nashville, Tennessee.
Captain Burdine joins an elite alumni of graduates comprised of thousands of leaders from all over the world, many who hold Chief of Police positions.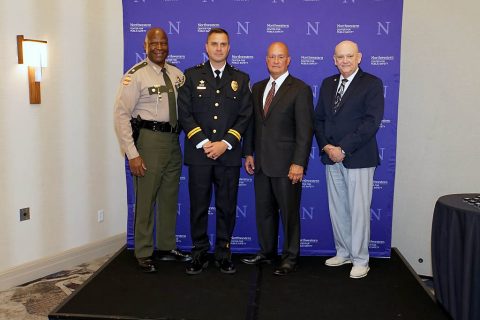 This program was implemented by the Center for Public Safety in 1983. Captain Burdine was one of 29 students in SPSC Class #460 to successfully complete the 10 week program on Friday, May 31st, 2019.
The SPSC program provides upper level college instruction with courses focused on leadership, organizational behavior, applied statistics, human resources, employee relations, and planning and policy.
The students had their knowledge challenged in the subject areas through written examinations, class projects, presentations and quizzes as well as staff study papers.
SPSC is interactive and designed to prepare law enforcement managers for positions of greater responsibility by combining academic principles combined with practical applications.
But, beyond the academics, the SPSC creates an environment for building relationships, sharing of experiences, and developing resources from other law enforcement agencies that will last long after the course ends
Captain Burdine was already a valued member of the Clarksville Police Department's leadership team and the additional knowledge gained though her attendance at SPSC will further enhance his abilities as a leader and benefit the Clarksville Police Department as well as the community. Captain Burdine has been with CPD since July 1st, 1997.
Photo Gallery