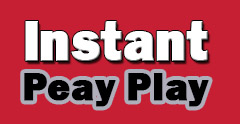 Clarksville, TN – The dream of having a chance to play in the major leagues could become reality this week for several Austin Peay State University (APSU) baseball players, with the 2019 Major League Baseball Amateur Draft running June 3rd through June 5th in Secaucus, NJ.
The APSU Govs have a long history in the draft — dating back to the Govs first draft selection in the 1972 draft, Tim Burns, who went in the second round — and this year's 40-round draft should be no different.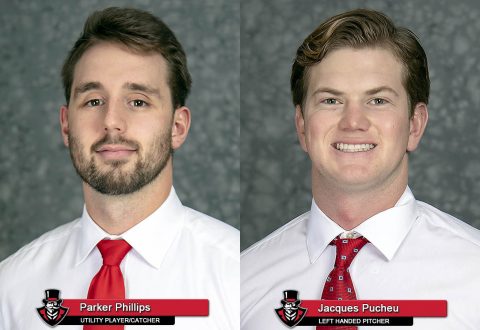 Heading the list of possible draftees is junior outfielder Parker Phillips and left-handed pitcher Jacques Pucheu, who were picked as All-Ohio Valley Conference First Team selections this past season.
Phillips batted .316 this past season, which included OVC-leading totals for home runs (25), RBIs (64) and slugging percentage (.732), while Pucheu tied for the league lead in wins (8) and opponents batting average (.196), while finishing second in strikeouts (108).
But there could also be others, as right-hander pitcher Tyler Thompson is also listed as one of the top players form the State of Tennessee on the MLB Draft Center tracker.
Those three Govs hope to join the likes of former teammates Michael Costanzo, who was drafted in the 2018 draft by the Tampa Bay Rays and Alex Robles – a 2017 draft pick by Minnesota Twins.
Overall since 1972, 42 Austin Peay State University Governors have been taken in the Major League Baseball Draft with six of those Greg Tubbs (1984/Atlanta Braves), Jamie Walker (1992/Houston Astros), A.J. Ellis (2003/Los Angeles Dodgers), Shawn Kelley (2007/Seattle Mariners), Matt Reynolds (2007/Colorado Rockies) and Ryne Harper (2011/Atlanta Braves) making it all the way to the majors.
There have been two Governors picked as high as the second round, the first being Burns in 1972 (the 33rd overall pick by the California Angels) and Chuck Abbott in 1996 (the 55th overall pick by the California Angels).
Nate Manning was also a Top-10 round pick in the 1996 draft, being selected in the ninth round by the Chicago Cubs.
While it is unlikely any of this years Govs will go in one of the earlier rounds of the draft just know the APSU Govs that have been drafted that have made it all the way to the majors have been drafted between the 10th and 37th rounds, so be it Day 1 or Day 3, having your name called is the start of the dream and some of this year's Govs should have their dreams started this week.